Haida 150mm filter system – Review Part 1
Offer: Daniel Gangur

Over the past couple of months I have been using Haida's 150mm filter system, these optical glass filters are perfect for use with ultra wide-angle lenses.
I initially saw these filters at a trade show last year and was interested in the fact they offered a filter adapter that suited the Samyang 14mm f2.8 lens. The Samyang 14mm f2.8 lens has a large bulbous front element that requires a dedicated filter adapter and large 150mm filters if you wish to use filters on this lens.
Just in – I've also recently found out that Haida is releasing a dedicated holder for the new Samyang XP 14mm f2.4 lens, so hopefully I will be able to get one of these for test soon too.
Haida offers these filter holder kits for a variety of ultra wide-angle lenses, more information can be found here: http://www.haidaphoto.com/en/products.php?tid=135
They also make a variety of filter ring adapters to suit various screw in front filters thread diameters that can also be found at http://www.haidaphoto.com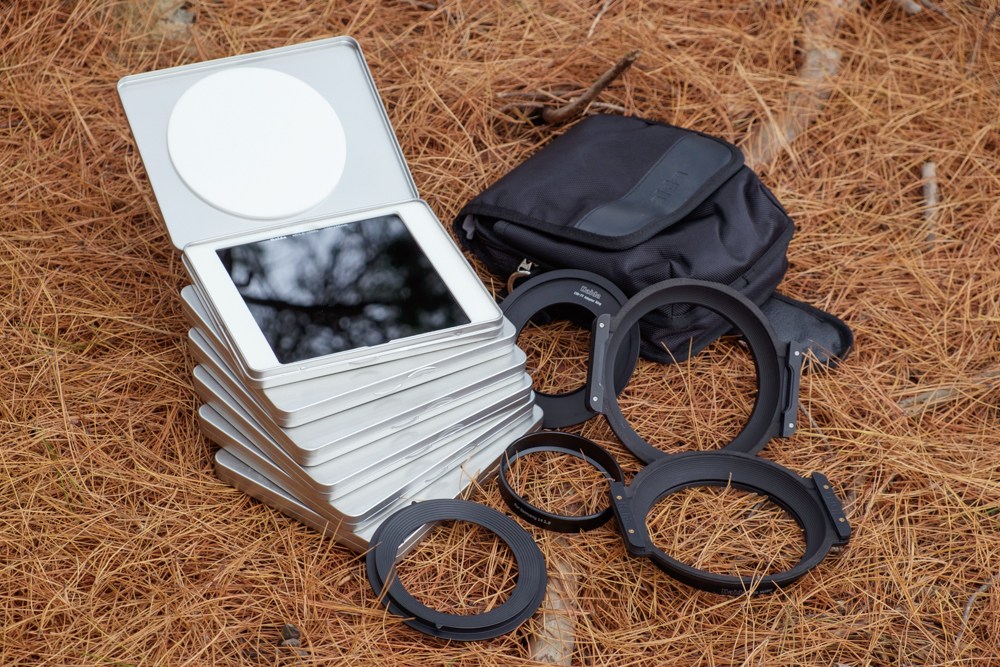 I was lucky enough to receive a pretty thorough set of filters and adapters from Haida Australia to suit my most used lenses for review. The kit includes:
-150mm universal filter holder and 77mm filter adapter ring
-150mm filter holder set to suit the Samyang 14mm f2.8 lens
-150 series insert filter pouch
-0.9 soft, hard and reverse PROII Multi – Coated Graduated filters (3 stop)
-0.9 Neutral Density filter (3 stop)
-3.0 Neutral Density Filter (10 stop)
-Insert Circular polarising Filter
Initial thoughts
One thing that was immediately apparent when I opened up the nice clean white Haida packaging was the hard metal case each filter comes in, fantastic! These metal cases look great, are quite minimalist with just the Haida logo, but most important of all give each filter protection from damage, my LEE filters never came packaged like this, well done Haida. Everyone I've shown these filter to has been equally impressed.
Haida has consistent looking packaging for their filter adapters, filter pouch and filter adapter rings although these do not come in the metal case like the filters it is clear that Haida aim to make a quality product.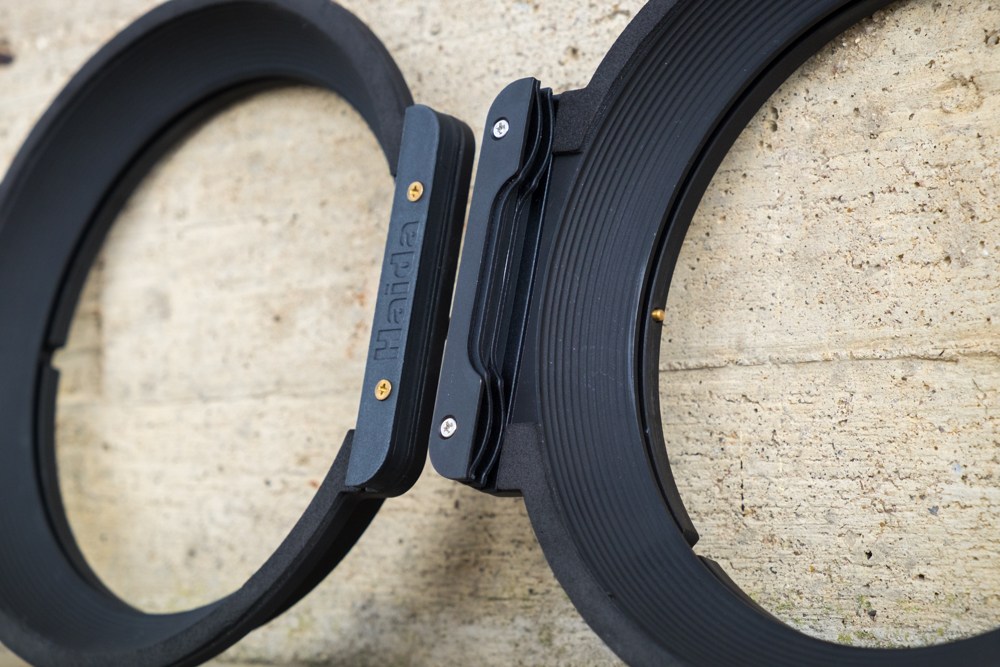 Haida Filter Holders Left- Samyang 14mm f2.8 holder Right – Universal
The Haida filter holders are made of metal with a matt black inner to help stop reflections. The Samyang dedicated holder on the left (above) has one filter slot to help minimise vignetting. The universal holder (above right) has two to allow stacking of filters. Both have gaskets to ensure no light leaks in around the filters when placed in the first slot, each holder comes with plenty of spare gaskets, another nice touch by Haida. Either filter holder can be used with the dedicated Samyang 14mm f2.8 adapter or screw on filter adapter ring but you will get vignetting with the Samyang 14mm f2.8 lens if you use two filter slots.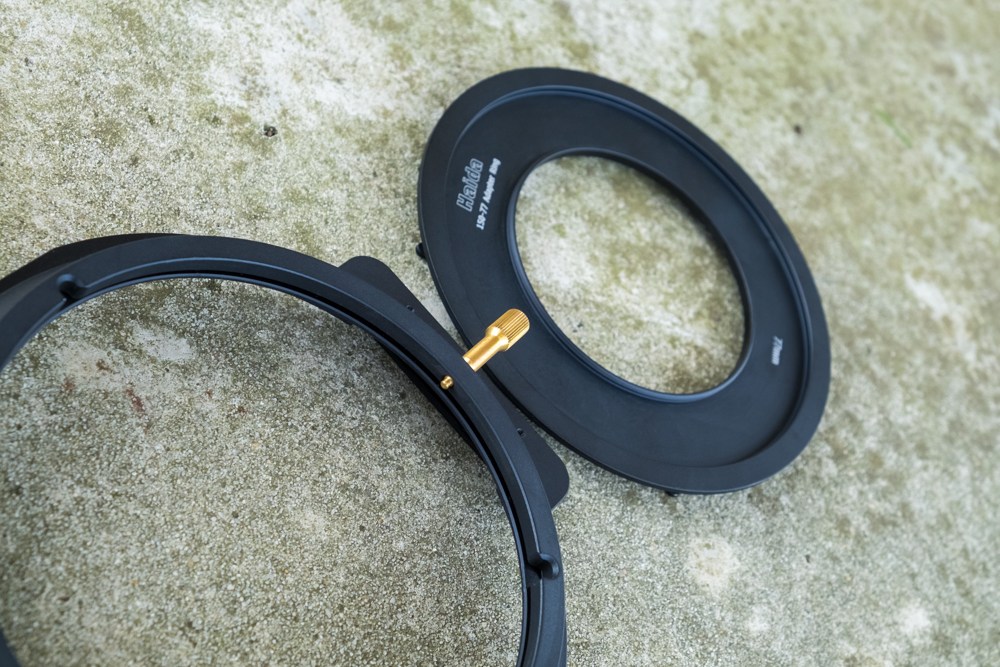 Something I really like about the Haida system is the way it pieces together. The filter holder slots onto either the adapter ring or dedicated adapter via 3 locators, once slotted in, you rotate the holder slightly and then screw in the locking screw (shown above) this holds the holder and filter in place on the lens. It allows you to loosen the screw to allow rotation for filter positioning or you can screw the locking screw in further to hold the filter holder and filter in place. The way it is designed means that even if you totally unscrewed the locking screw the filter holder and filter would not easily fall off, a big concern when using large expensive glass filters, I really like this system.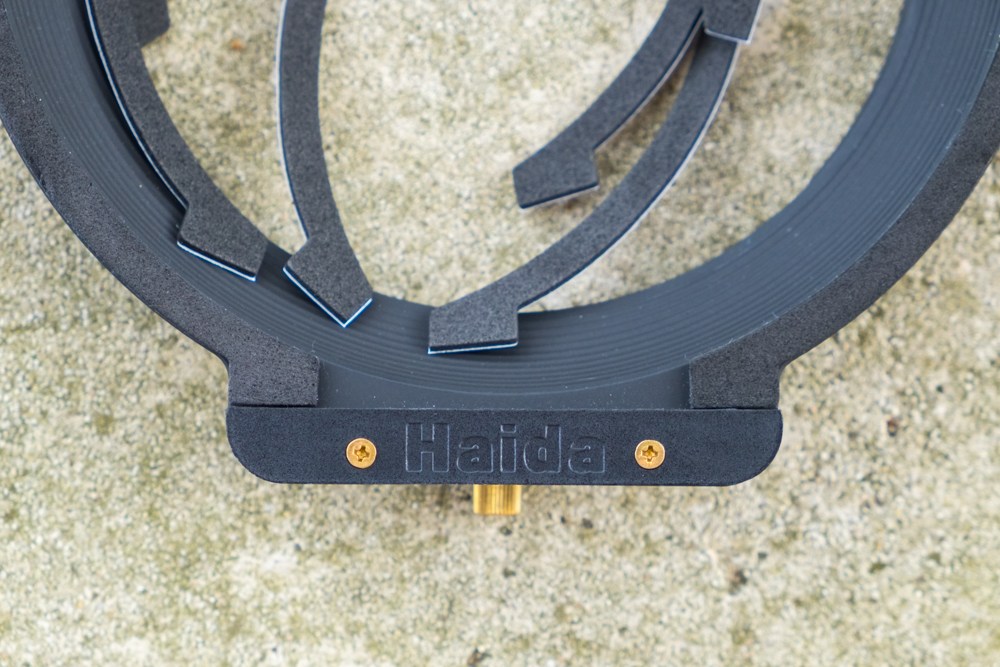 Spare Gaskets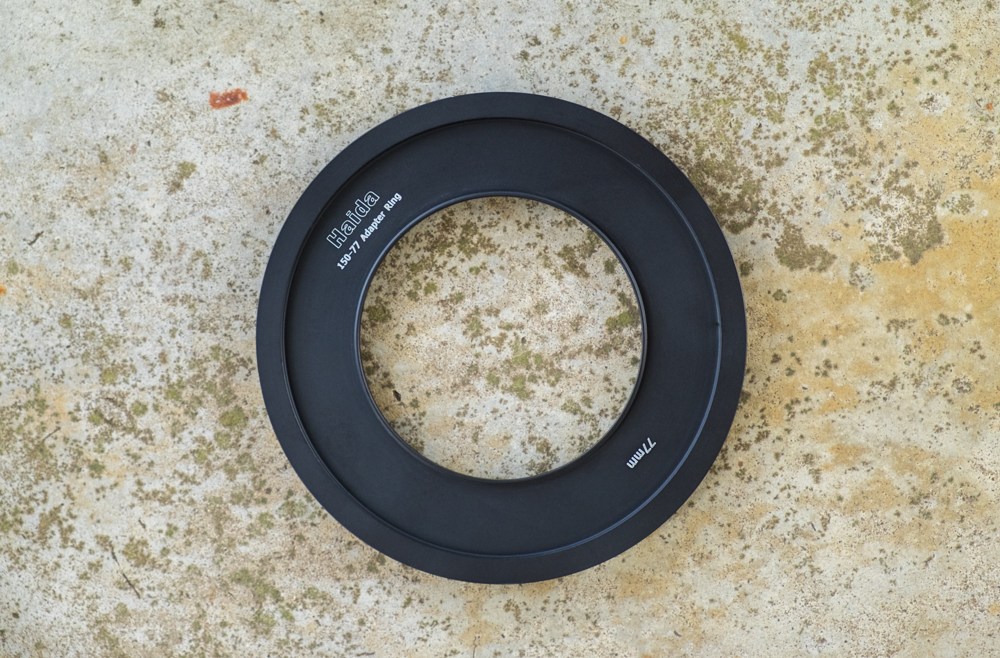 77mm thread filter adapter. These are available to suit a variety of front filter thread diameters.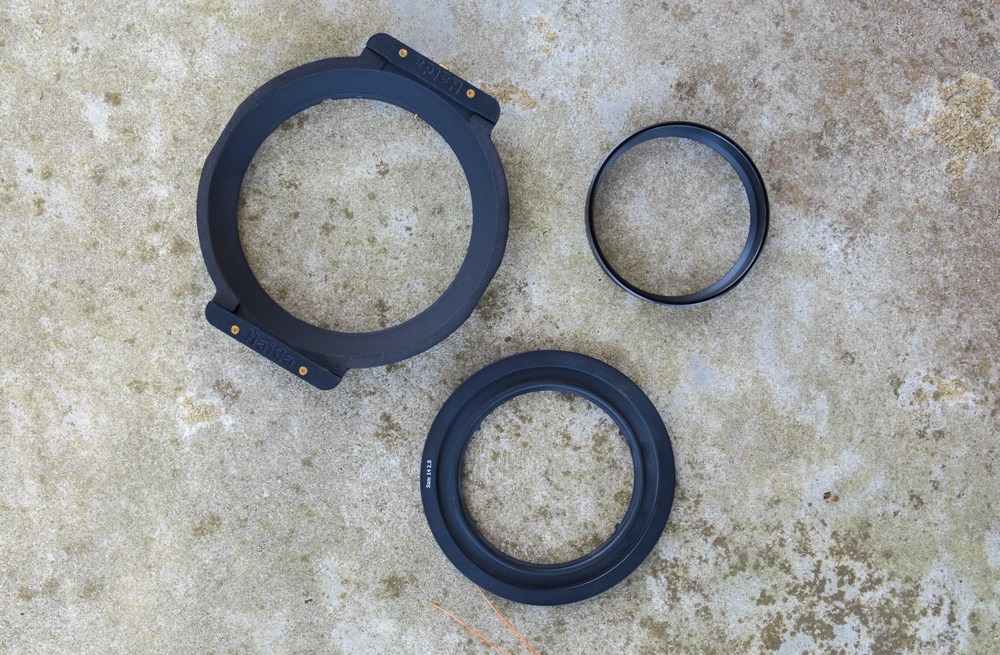 The dedicated filter adapter kit for the Samyang 14mm f2.8 comprises of three parts, the filter holder, an adapter ring and colar. The colar slips over the back of the Samyang 14mm lens and screws to the adapter ring that sits on the front of the lens using small locators to position it in place on the petal lens hood of the lens. Once screwed together the filter holder simply slips on and is locked into position. There are instructions included with the filter holder kit but it's very straight forward. You can leave the Filter holder attached to the adapter ring and leave the colar on the lens if you wish while it's all in your bag between shoots.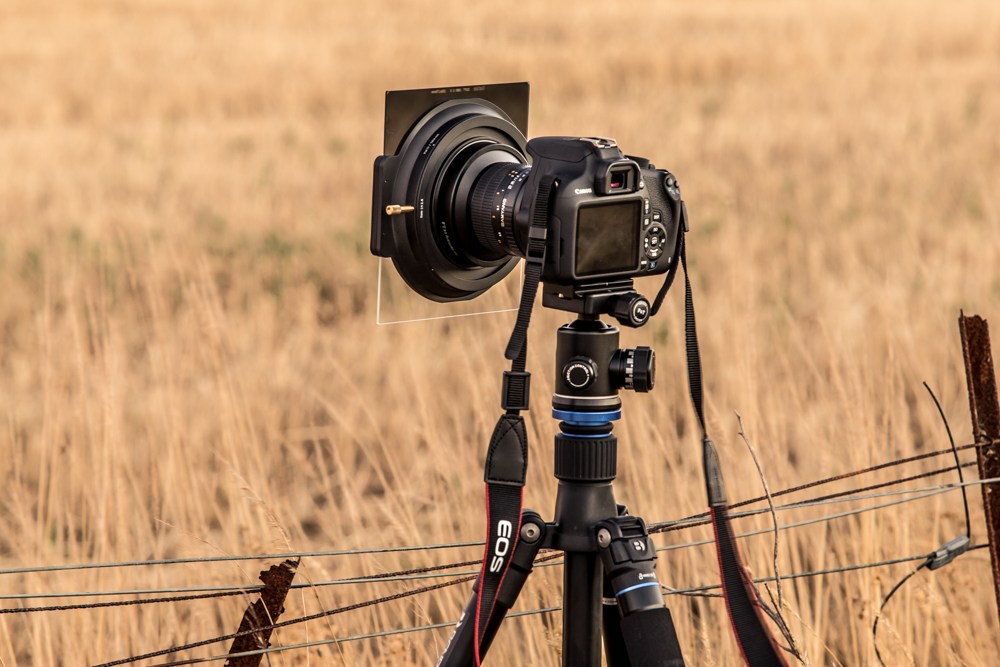 Above- filter/holder adapter ring and colar looks very tidy and offers the ability to use 150mm filters on ultra-wideangle lenses that do not offer front filter threads.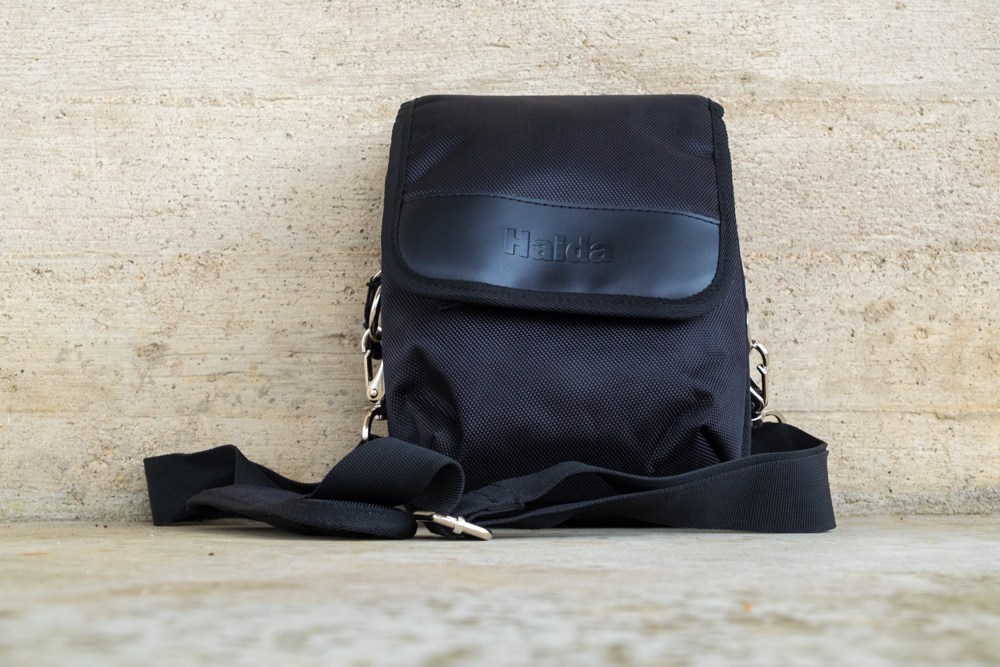 Haida Insert filter pouch. The filter pouch purchased separately for the Haida filters holds six filters in dedicated soft slots in one side of the pouch. The pouch is still essentially soft but does offer quite good protection, it would take a fair hit to break any filters, each sleeve is very soft, providing it's kept clean your filters should be kept safe and in good condition, the filter area zips closed to keep dust etc out.
There is a front area in the pouch that fits your holder and adapter ring or dedicated filter adapter kit. A large flap folds over this area to keep everything inside and offers a bit more protection along withe easy access. The pouch also has a shoulder strap with quite solid clips and fittings, the material the pouch is made of looks quite water resistant and easy to keep clean.
The pouch is simple but functional and definitely worth purchasing as it's a lot easier to carry than six metal cases and also uses up a lot less space in your kit when packed.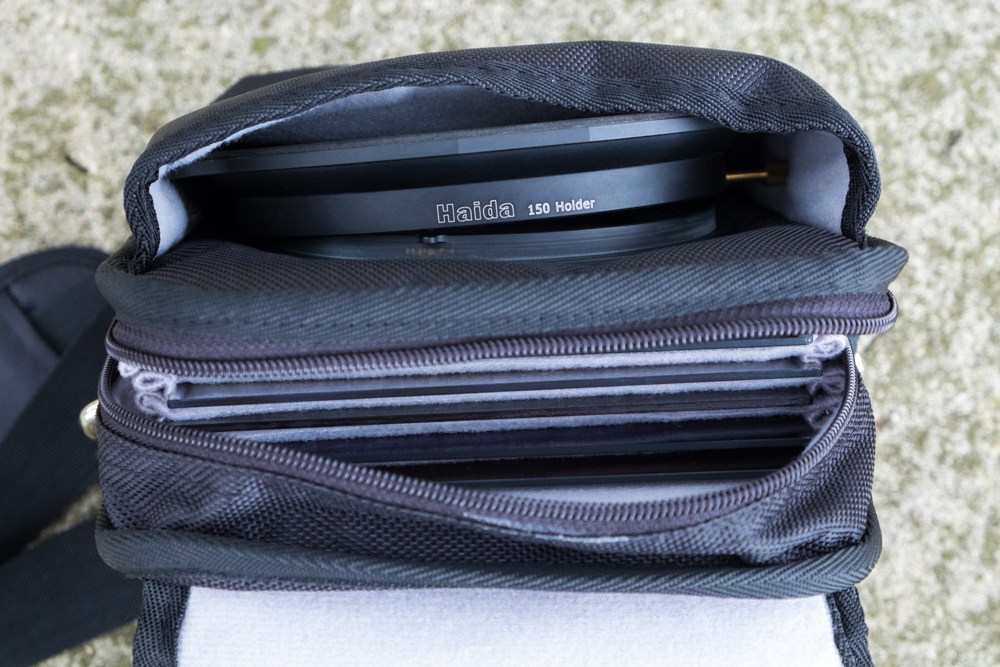 Above – Inside the filter pouch.

THE FILTERS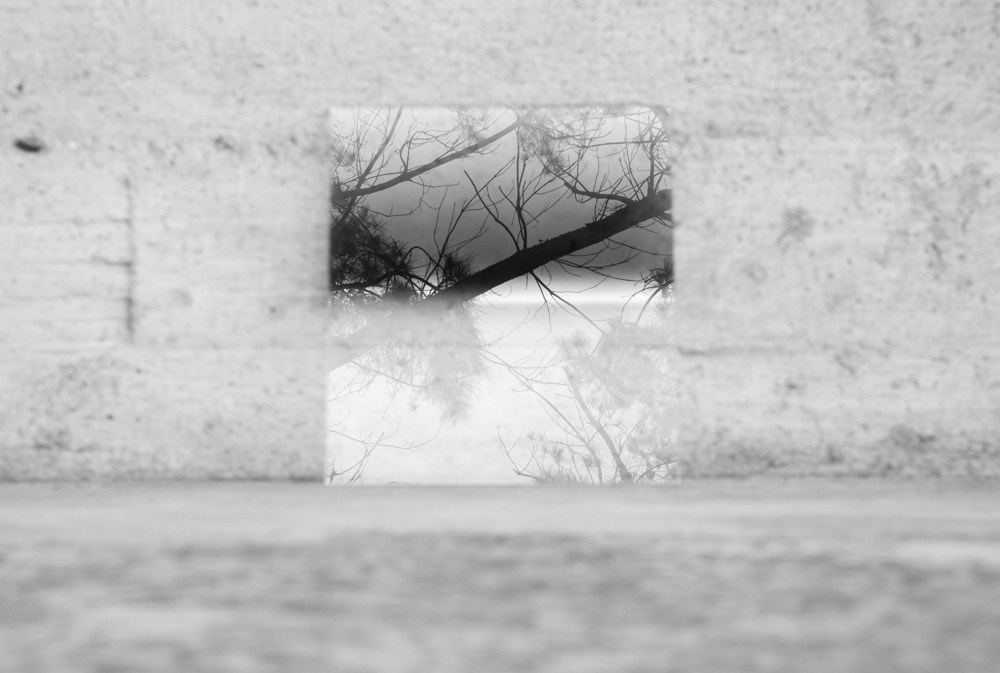 The Haida 150mm graduated neutral density filters allow you to reduce exposure in selected areas of your image to balance exposure, these are available in hard, soft and reverse and in various strengths. Above is the PROII Multi coated 0.9 (3 stop) Reverse Graduated Filter, note the darker area in the centre shifting to lighter at the top, good for reducing the exposure just above the horizon in sunrise/sunset images and gradually allowing more light in toward the top of the image, the bottom is totally clear and has no effect on exposure.
The 150mm PRO MCII graduated filters are made of high quality optical glass that produces no colour shift, approx 2mm thick and suitable for most 150mm filter holders, such as LEE. They are 150mm wide by 170mm long allowing you to slide them up and down in your filter holder to suit the scene and reduce exposure where you would like, a definite advantage over screw in round filters that do not allow this. The filters are multi coated to reduce light reflections, they also have a water proof coating, I believe this may be to help keep the filter clean.
The Haida ND (Neutral Density) filters reduce the amount of light hitting your cameras sensor, darkening the scene. This allows you to use a wider aperture or longer shutter speed, these are available in various strengths like the graduated Neutral density filters. This is useful for creating silky smooth water, show "movement" in clouds etc.
The Haida ND filters are made of high quality optical glass, approx 2mm thick to suit various 150mm filter holders. They are 150mm x 150mm as they do not need to be moved in the holder. They do not effect the colour of an image.
The Haida Circular Polarising Filter is also made of high quality optical glass, 150mm x150mm and 2mm thick and can be used in various 150mm filter holders. A circular polariser can cut out glare from a scene, reducing/eliminating reflections, it can help saturate colours, deepen blue skies and emphasise clouds, it can also darken the scene, very useful.
To be Continued...