Review - Haida Anti-Fog Belt
Anyone who has spent a significant amount of time shooting the night sky will undoubtedly have experienced the horror of having their lens fog up due to condensation. Luckily, there are plenty of solutions nowadays. To solve the problem we first need to understand what causes it. Lenses tend to fog up with condensation when the temperature of the lens drops below the dew point. The solution to this problem is to keep the temperature of the lens slightly above the dew point. This is achieved by using a dew heater.
Haida, a company known mostly for their high quality photography filters, has just released a dew heater, it is called the 'Haida Anti-Fog Belt'.
I have been shooting night skies for years, I can't recall the number of times I was shooting a star trail or a time-lapse over several hours, only to realise my lens fogged up at some point and any frames after that were useless.
The issue with condensation is that it is completely unpredictable, sometimes it happens instantly, such as when you take your camera out of a cool air-conditioned vehicle into a warm and humid environment. However, sometimes, and more problematically, condensation will form on the lens during longer sessions such as when spending hours shooting deep sky images, meteor showers, star trails or time lapse images. Condensation is most common in humid climates.
What's in the box
·Haida Anti-Fog Belt
·Storage pouch
·Product Manual
Specifications
·Quickly reaches selected temperature
·Three power settings: Low (35-45°C), Medium (45-55°C), and High (55-65°C)
·Fits any lens or telescope with a maximum diameter of less than 110mm
·Material: Graphene heating element and neoprene cover
·Hook-and-loop fastener
·Power Input: DC 5V 2A Power - External Power Supply required (Powerbank)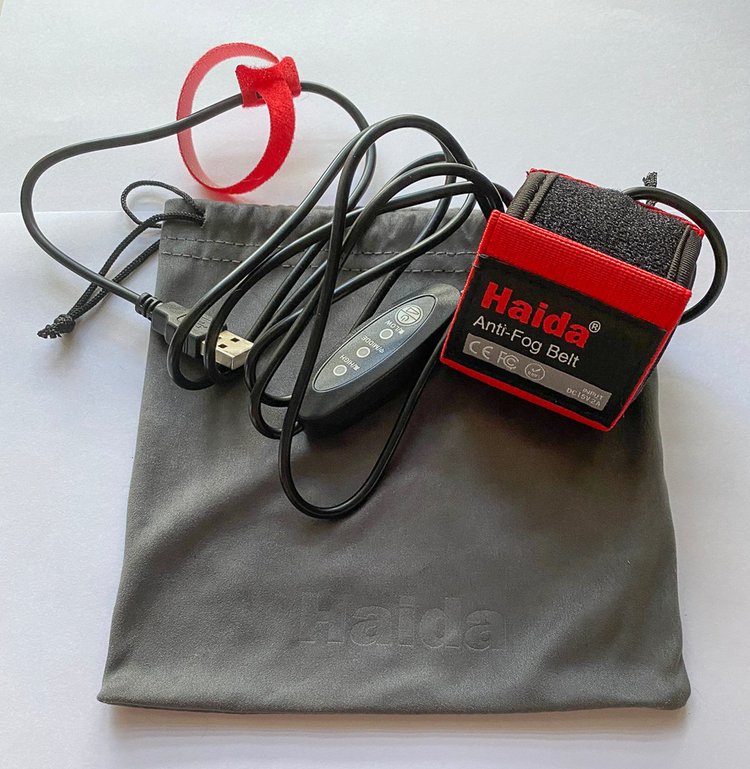 The Haida Anti-Fog Belt and its storage pouch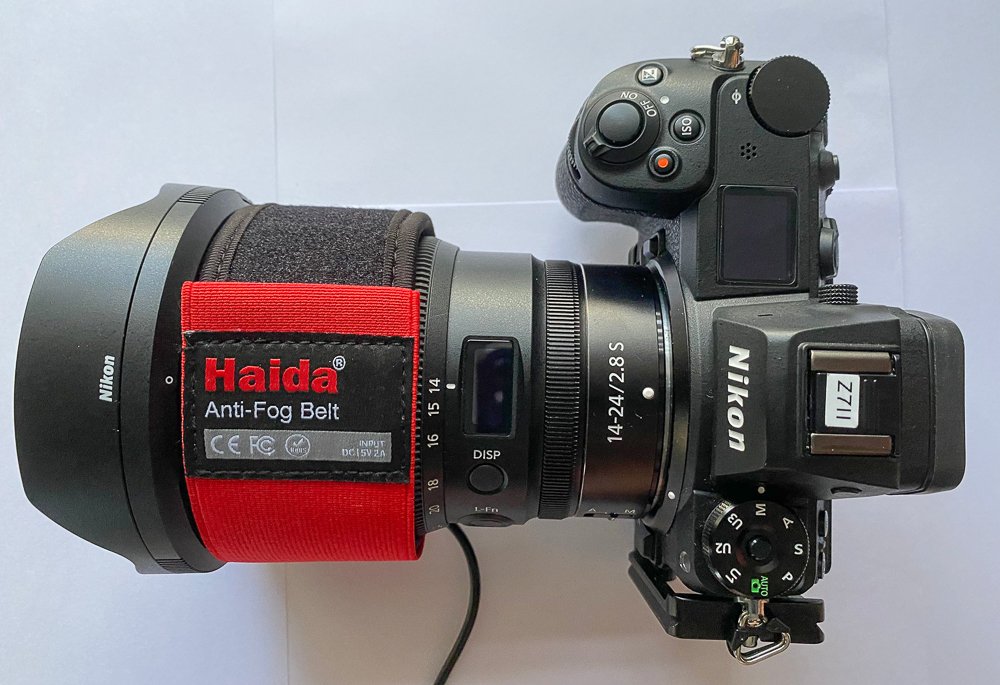 The Haida Anti-Fog Belt on my Nikon Z 14-24mm F2.8 Lens and Nikon Z7II
First Impressions
The Haida Anti-fog Belt is a cheap and simple solution to prevent condensation forming on your lens. The Haida Anti-Fog Belt is made of high quality materials, the belt attaches using a simple hook and loop system, so it can be adjusted to the diameter of any lens (As long as the diameter doesn't exceed 110mm). Haida Anti-Fog Belt is compact and lightweight, making it perfect for hiking and travelling with. The Haida Anti-fog Belt has a graphene element which heats up when connected to an external power source (Power Bank). There are 3 different temperature settings, these are Low (35-45°C), Medium (45-55°C), and High (55-65°C).
I've used the Haida Anti-Fog Belt several times and it has always worked flawlessly. The ultimate test was when I spent several hours capturing the Perseids meteor shower in August in the Dolomites. It was near freezing and I had two cameras set up, but unfortunately I only had one Haida Anti fog belt. My Nikon Z7II with 14-24mm Lens and the Haida Anti Fog Belt performed perfectly without ever fogging up, but my second camera (Nikon Z6II with 24-70mm Lens) fogged up within the first 30 minutes.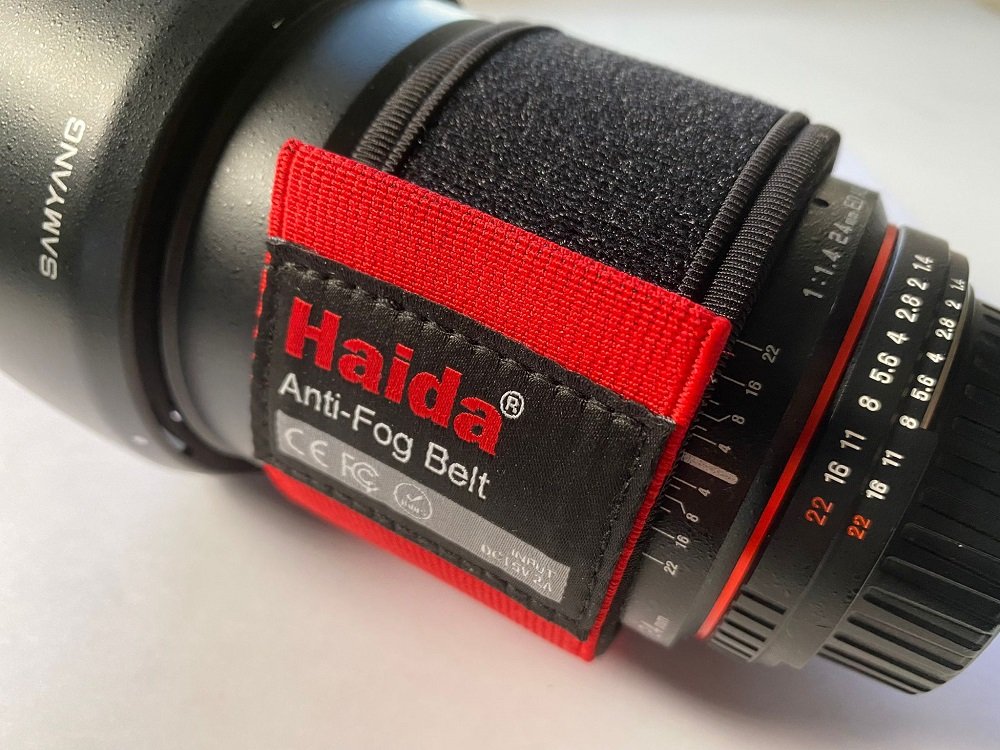 The Haida Anti-Fog Belt on my Samyang 24mm F1.4
The Haida Anti-Fog Belt is incredibly easy to install, it fits on any lens with a diameter of less than 110mm. The cable which includes the controller is 150cm long, this makes it long enough to leave the powerbank in a camera bag or on the ground between the tripod legs. I generally prefer to attach the powerbank and wire to the leg of my tripod to ensure the cable doesn't flutter in the wind and cause vibrations.
As with any dew heater, it's important to ensure that you do not accidentally knock the focus ring when attaching it to the lens. If your lens allows you to lock the focus ring, then I would suggest doing this once you have focused (And before attaching the dew heater). If your lens does not have a focus lock, then I would suggest using some electrical tape to lock the focus ring to the lens barrel (Before attaching the dew heater).
The controller has a single button which activates the Haida anti-fog belt. The default setting is high, and you can cycle through the different settings (Low, Medium, High) by pressing the button on the controller.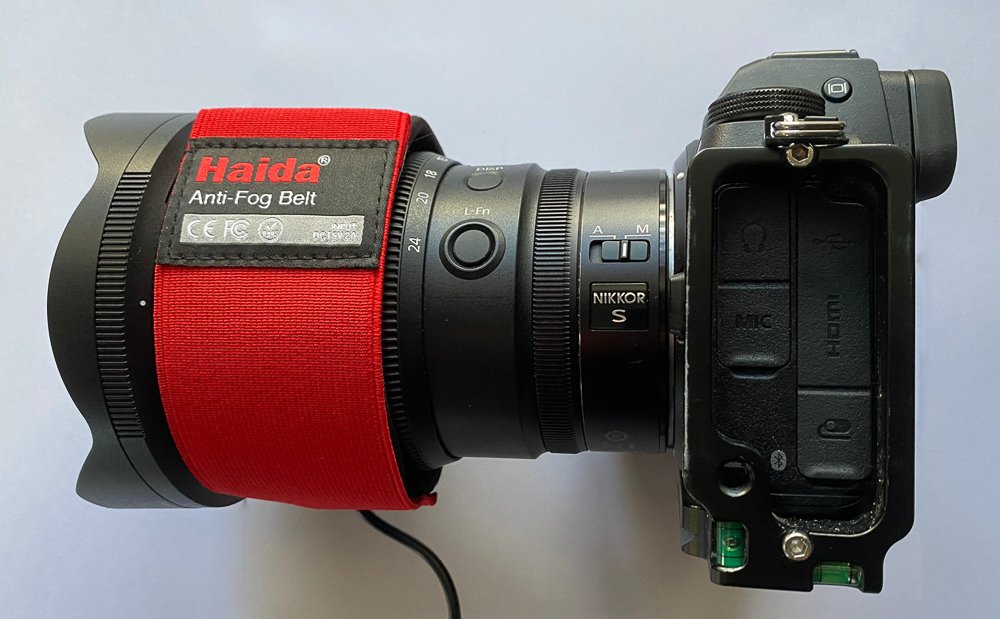 The Haida Anti-Fog Belt on my Nikon Z 14-24mm F2.8 Lens and Nikon Z7II
The controller has an LED light which shows when the device is on and which power setting it is set to. This is surprisingly bright, but it's easy to cover with the original pouch or a small piece of electrical tape.
As with all other electronic dew heaters, the Haida Anti-Fog Belt needs an external power source in order for it to work. I use my Anker PowerCore 26800, this is a massive power bank and will easily last for a whole night of shooting.
Pros:
·Quick and easy installation (Even in the dark)
·Starts to warm the lens immediately
·Can be used on most lenses / telescopes (Maximum 11 cm diameter)
·The Cable is a perfect length (150cm)
·Lightweight and compact, great for hiking or travelling
·Three different power settings
·Haida branded pouch included
·Reasonably priced
Cons:
·The band is quite narrow (A thicker band would warm up more of the lens)
·The LED indicator on the control unit is too bright
Note:The things I have mentioned above as cons are only minor issues, and aren't a deal breaker. If you enjoy spending nights out capturing the wonders of the night sky, then I would definitely recommend the Haida Anti-Fog Belt, as it does a great job of keeping condensation away!
The controller showing the button and the LEDs for each mode
Conclusion
There is not much more I can say. The Haida Anti-Fog Belt does exactly what it should, it keeps the lens slightly warmer than the ambient temperature to prevent condensation building up on the front element of the lens.
The Haida Anti-Fog Belt is something every astrophotographer and time-lapser should have in their kit. You won't need it all the time, but its compact and light enough to always have in your camera bag whenever you plan to shoot night sky photography or in very humid climates.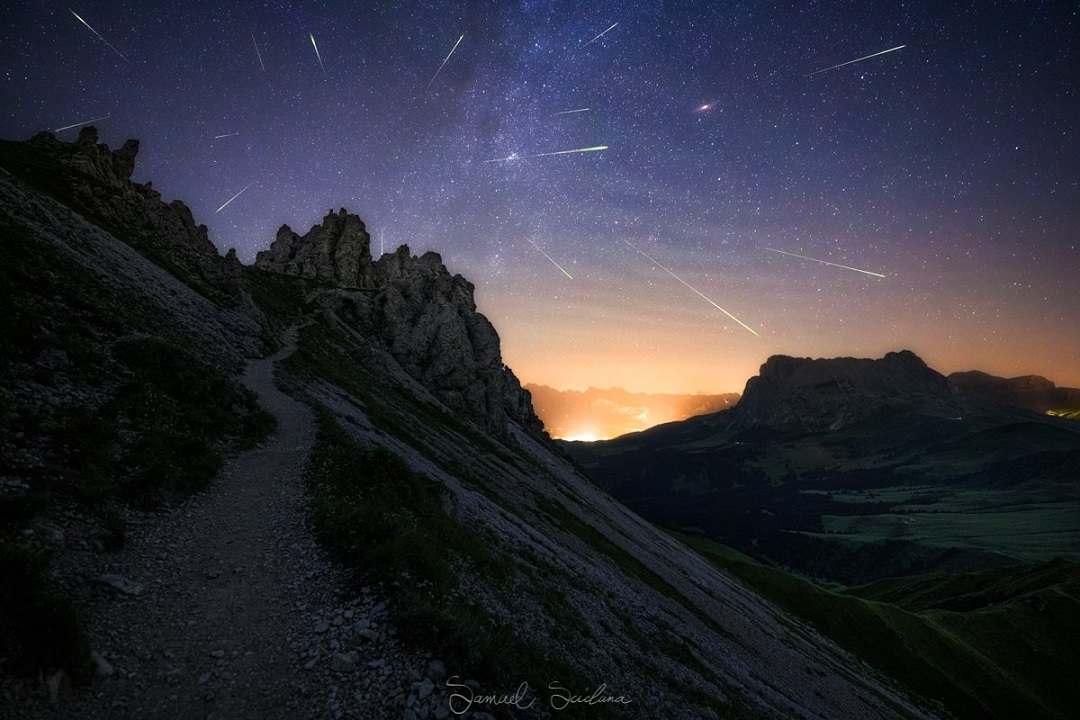 A cold night in the Dolomites shooting the Perseids Meteor Shower with the Haida Anti-Fog Belt on my lens.

Please Note: This is not a paid review or product endorsement. Haida have sent this product to me to test and review. The review is my honest opinion about this product.
Haida Filters are available from Photo Images Malta.