Innovative Haida NanoPro Interchangeable Magnetic Variable ND Filter is born!
With the development of videos and the increase of video audiences, more and more amateur and professional photographers are not satisfied with the slow-shutter of high stop ND filters.
How to control shutter speed via variable ND filters and avoid rolling shutter effect, it is a strong need of consumers. After hundreds of researches and testings, today Haida is launching the innovative Haida NanoPro Interchangeable Magnetic Variable ND Filter!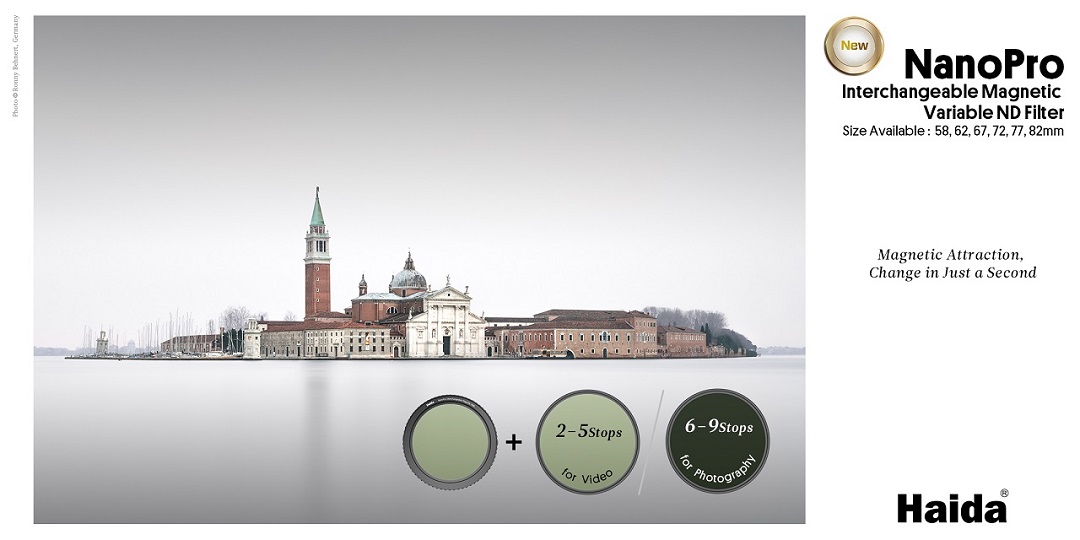 Specifications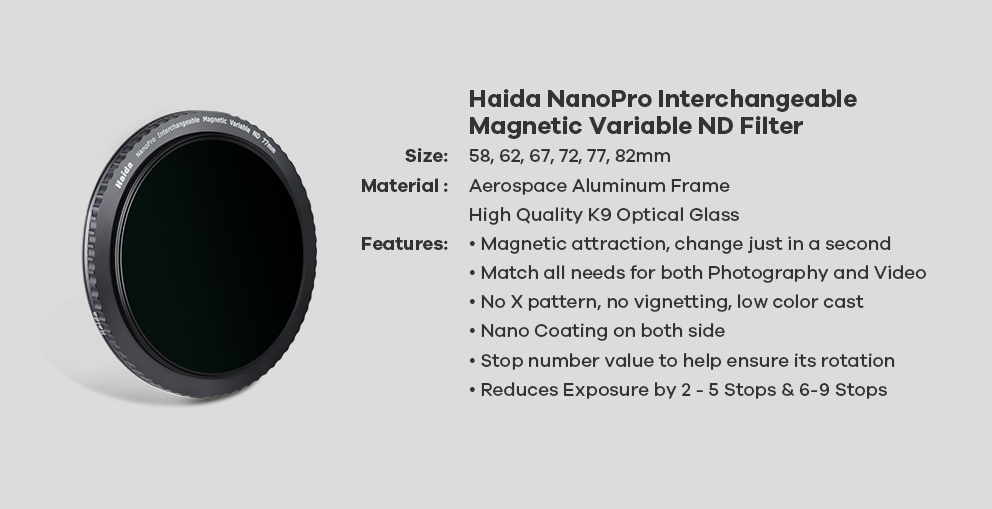 This filter specially added accurate stop numbers and magnetic attraction designs, which are rather easy when taking pictures because the filter can be changed just in one second! Moreover, this interchangeable variable ND filter is also highly recommended because of the performance and practicality. The 2-5 stops are perfect for taking videos and the 6-9 stops are dedicated to photography. It can be interchanged pretty fast, while the price is lower than 2 variable ND filters!
What you concern mostly is the vignetting of the filter, the picture below demonstrates there is no vignetting when using and low color cast. Meanwhile, the waterproof nano-coating surface enables you to use underwater! By the way, the weight of the Interchangeable Magnetic Variable ND Filter is almost 9g lighter than the previous VND filter.
---
New Event

This time we interviewed Portugal photographers @Duarte Sol! Duarte is talented in long exposure photography and you can find him on his Instagram and his Facebook. Now, let's watch his video and join in our GIVEAWAY!
How to Join in:
2. Like the video
3. Leave comments about what do you want to learn more about Duarte Sol
Gift as Following:
Haida M10 Filter Holder Kit + Adapter Ring

Event Time:
From 6th, November, 2020 to 13th, November, 2020

Duarte will select 1 winner and the winner will be announced through @haidafilter Instagram and @HaidaFilterOfficial Facebook homepage on 16th, November,2020.
Terms & Conditions:
1.Haida reserve the right to interpret the giveaway event.
2.Winners shall DM us their shipping info within 5 days upon the announcement.