A Review of the New Haida M10 Filter System and Red Diamond Filters - II
by Nando Harmson
From Fstoppers
How Do the Filters Perform?

With every new type of filters, the ND1000 seems to be the reference. How does the color hold up when using a "big stopper?" Does it shift colors, or not? As expected from a high-end filter like the Haida Red Diamond series, there is no color shift visible whatsoever. I wouldn't be surprised if these ND1000 filters are one of the best available.
Using long exposures on a beach at Lofoten. You have to be patience with it and wait for the exposure to finish while the wave come crushing in. (63mm | ISO100 | f/11 | 60s | Haida ND1000 + CPL + 0,9GND medium)
Of course, this is not a scientific laboratory test, but I didn't see any difference in color in real life use. Also stacking filters won't change the color. At one time I stacked a ND1000 and ND64 for an eight minute exposure without any problems.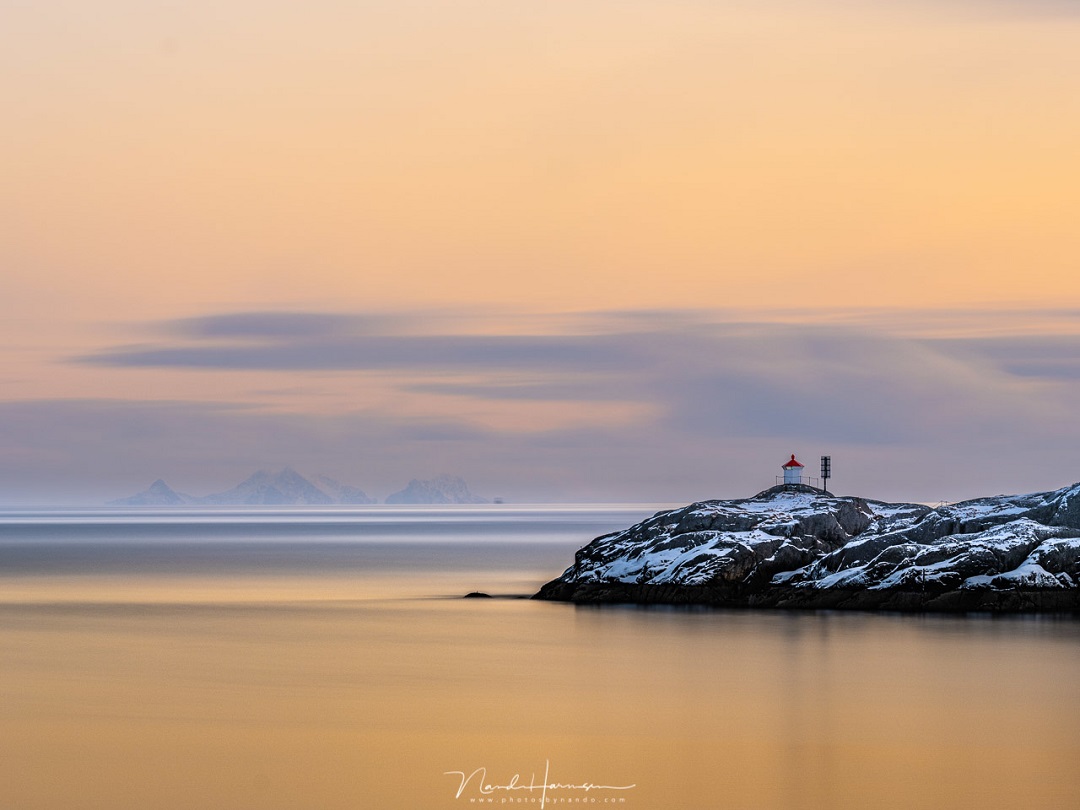 Doing real long exposures with stacking filters. In this case I used a drop-in ND64/CPL and the ND1000. Don't forget to turn of long exposure noise reduction. (250mm | ISO100 | f/10 | 480s | Haida ND64/CPL + ND1000)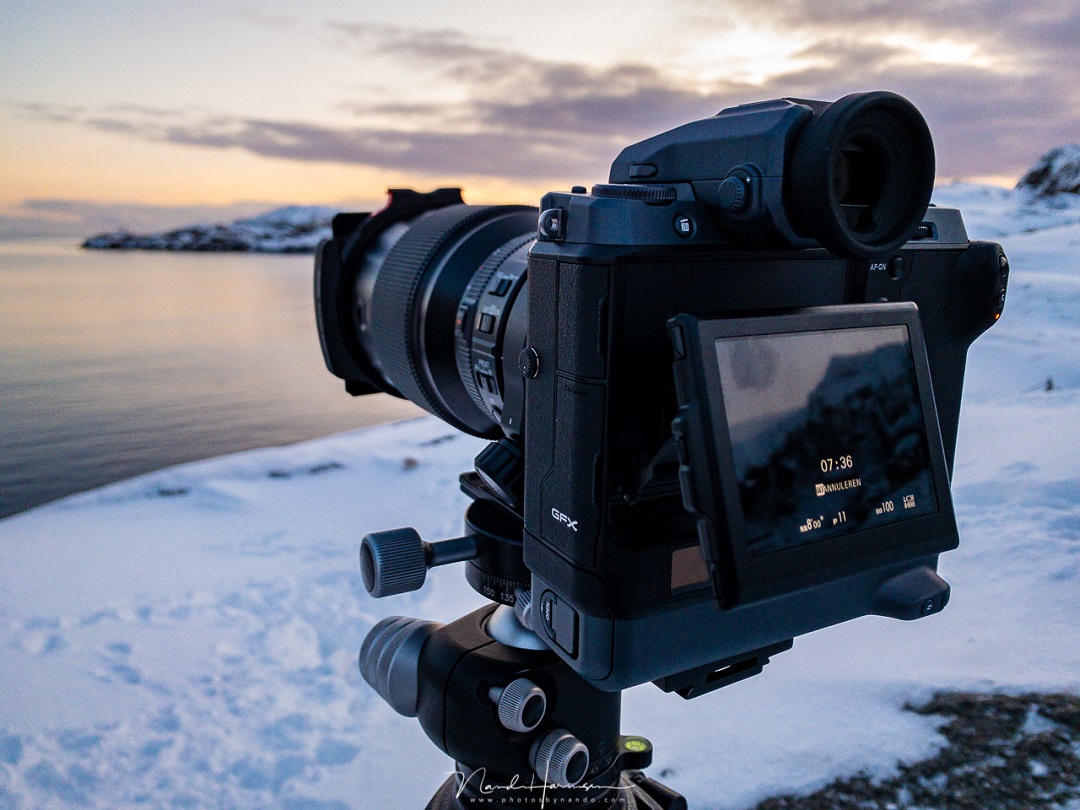 A behind the scene shot, Shooting with the Fujifilm GFX100 and Haida filters turned out to be lots of fun.
Difficulties I Encountered
There were some things I did run into when using these filters. I already mentioned the notifications on the filters, making it hard identifying them in the field. Especially the drop-in filters can't be read that easy. But perhaps the weather conditions weren't making it easy also. Time will tell.
Another thing I ran into was the rotation dial of the polarization filter. It is quite small, and rotating the dial is rather difficult because of that. Especially with gloves. But when you are using the large 100 x 150mm filters, which stick out on top of the filter holder, it may obstruct an easy use of the dial.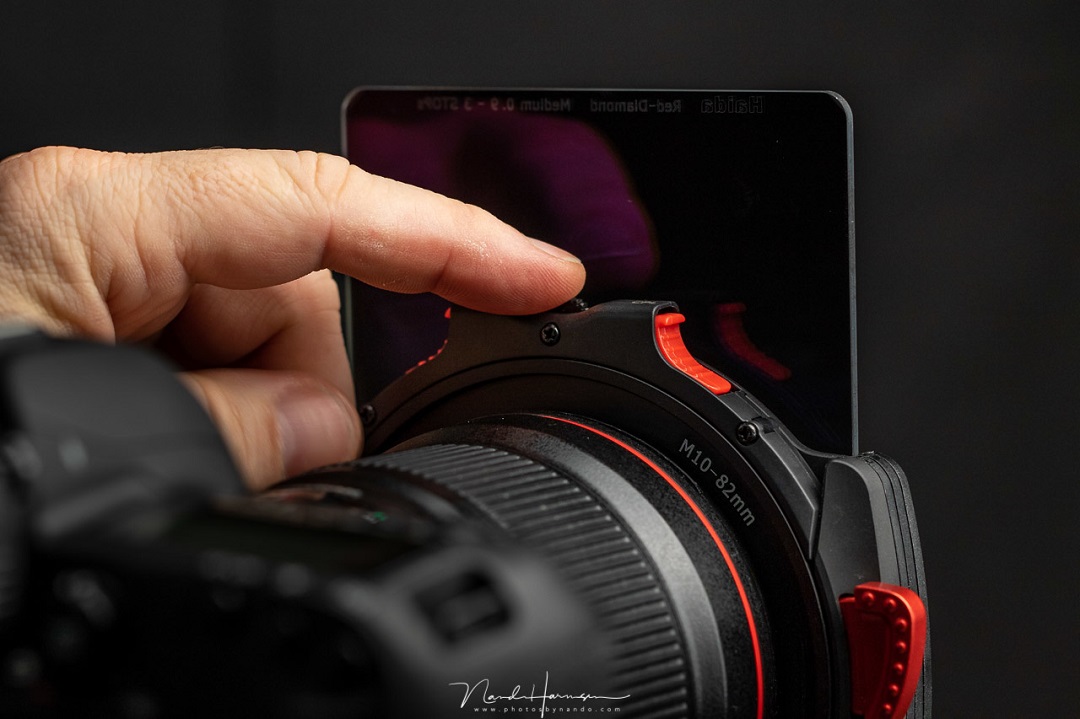 I found out the difficulty of rotating the filter when a large gradient filter is in place. It it possible, but when wearing gloves like at Lofoten, it becomes almost impossible. This could be improved.

Although the filter holder can be placed within seconds, there is no locking mechanism. It means the holder can easily rotate by accident. It is not a very big deal, because there is absolutely no danger it will fall off, but you have to keep an eye on the position.
What Could Be Improved
If I could improve the M10 filter holder, it would be a locking knob to prevent the M10 filter holder from rotating.
I also would like the dial for the polarization filter to be larger for easy use. If there is a way of replacing that dial to the side of the holder, it would be a real improvement.
Lastly, I would advise Haida to make the notification on the filters more clearly, so they're easier to read. Especially on the slot-in filters a larger contrast between the text and background would be a big improvement.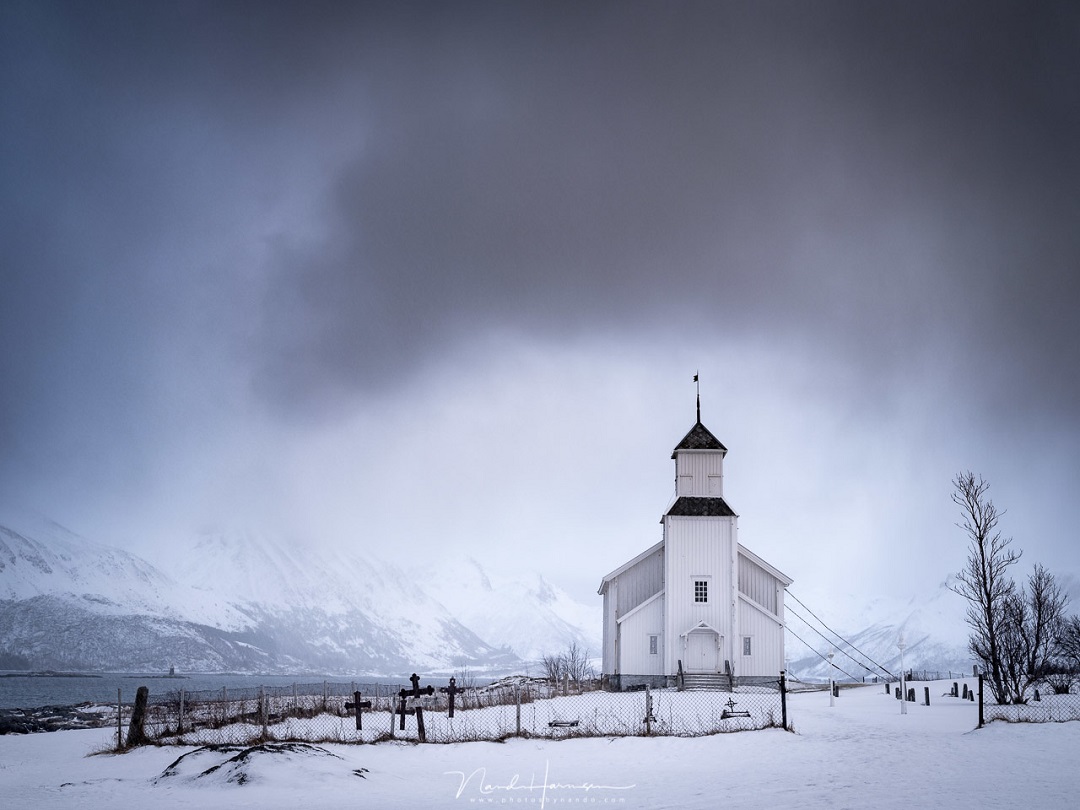 Capturing the small church at Gimsy beach with the use of a gradient filter. You could do this in post-production also, but it is much more fun when it can be accomplished at the location itself. That is why I love using filters (63mm | ISO320 | f/8 | 1/50s | haida 0,9GND medium)

My Opinion About the M10 Filter Holder and Red Diamond Filters
Before I write down my opinion about this filter system, it must be said Haida provided the filters and asked me to write a review for it, which I have done. But I have reviewed the filters with an open mind, being honest at all times. If I didn't like the filters, I would have said so.
I was surprised to see the difference with the old Haida filters from a couple of years ago. But also the M10 holder is absolutely much better. The new M10 system is very well designed and works very well. Even with gloves on it is easy to connect the holder to the lens, or change filters. I loved using it.
The system is not perfect though, but from what I have seen on the market, no filter system is. I believe Haida has come very close to a perfect system. Except for the few things that could be improved, of which some are very easy to accomplish.
I think combining the regular filter holder with the drop-in system is a good choice. It makes the system very flexible and it has become very easy to stack multiple filters. When using ND drop-in filters the risk of light leaks is almost eliminated completely. And Haida provides drop-in ND filters with polarization also, which is clever.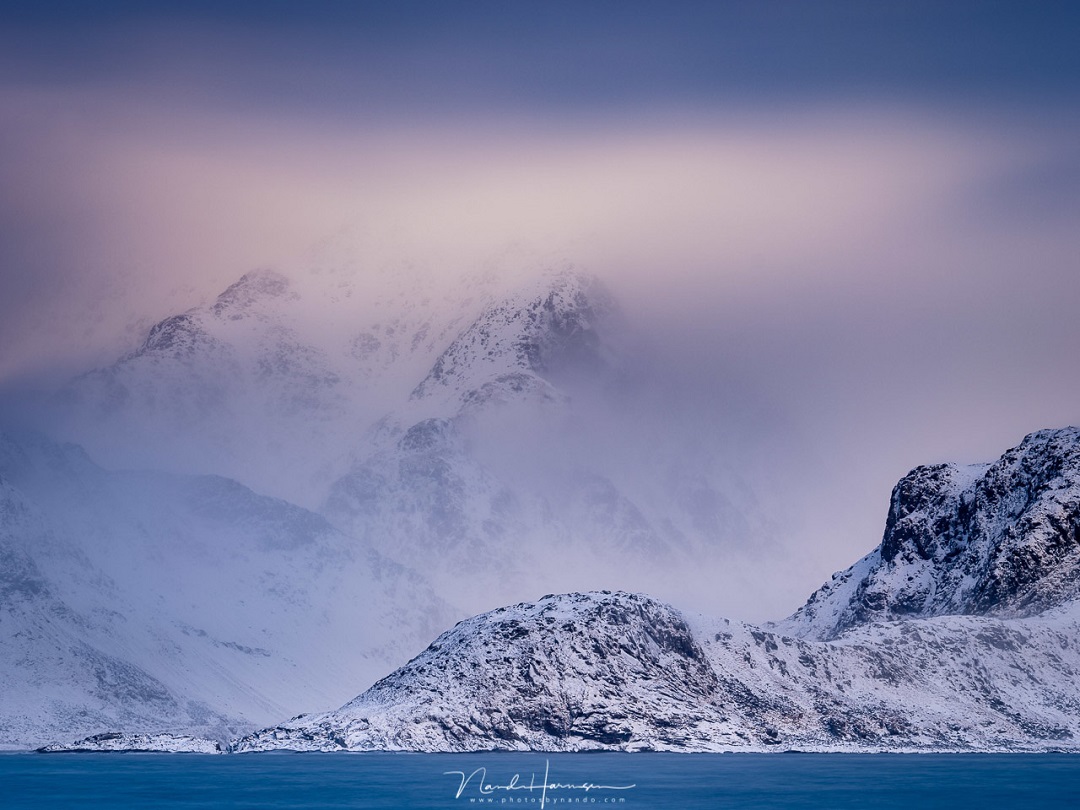 The effect of long exposure on waves and clouds. (250mm | ISO100 | f/11 | 28s | Haida ND1000 + CPL)
What I Like
-The filter holder is very well constructed
-The filter holder is very easy to place
-The filter holder is very light
-Drop-in filters work really well
-With the drop-in ND filters light leaks are eliminated
-Drop-in ND filters are also available in combination with polarization capabilities
-Filters have a very good quality feel
-The filters should be strong enough to survive a fall (but I did not test that)
-No visible color shifts with the heavy ND filters
-Filters come in nice hinged metal containers
What I Didn't Like
-No locking mechanism to prevent holder from rotating
-The rotation dial on the drop-in polarization filter is very small
-Difficult to read the type of filter on the drop-in filters
-The plastic rind around the drop-in filters feels a bit cheap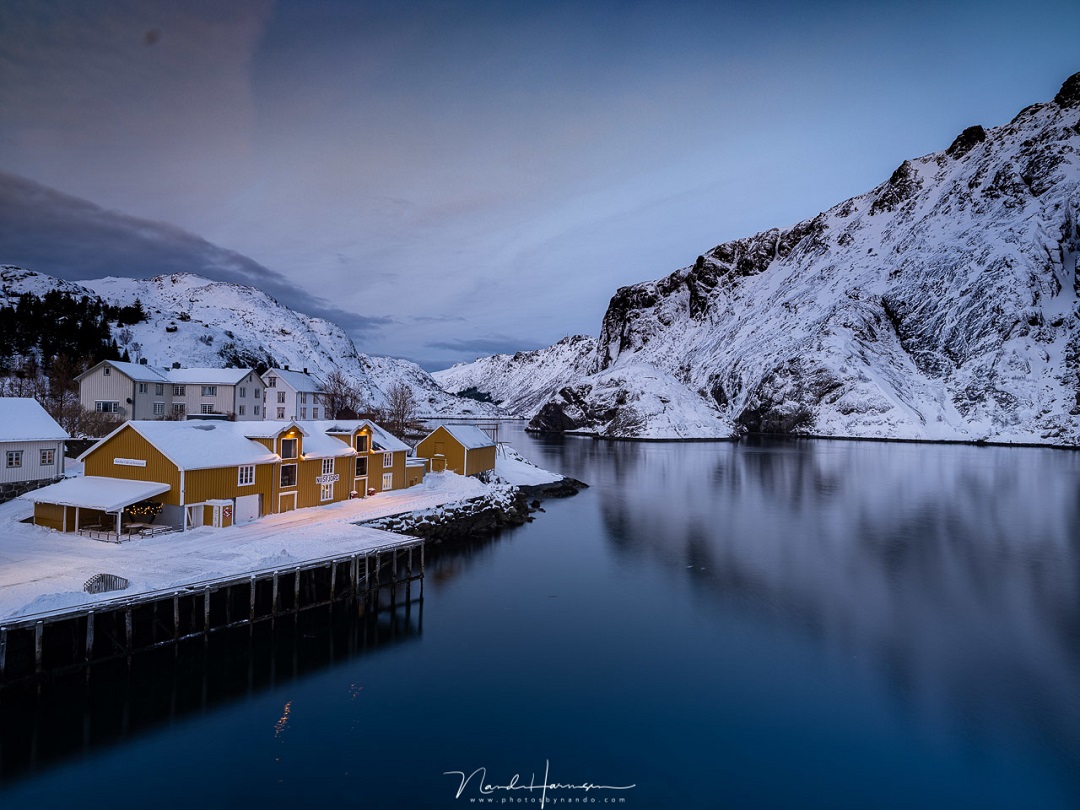 The small village of Nusfjord at Lofoten during twilight. (23mm | ISO100 | f/11 | 8s | Haida 0,9GND medium)
Would I advise photographers to buy this filter system? Yes, I would without doubt. Although it is not perfect, and subject for improvement, it is a very user friendly filter system. It works very well and is very flexible in real life use. I like the quick way it connects to the adapter ring. Although the slot-in filters seemed to be a hassle at first, I really started to like using these filters.
If I had to make a choice, I would use the slot-in for the ND filters primarily, and the normal slots for the gradient filters.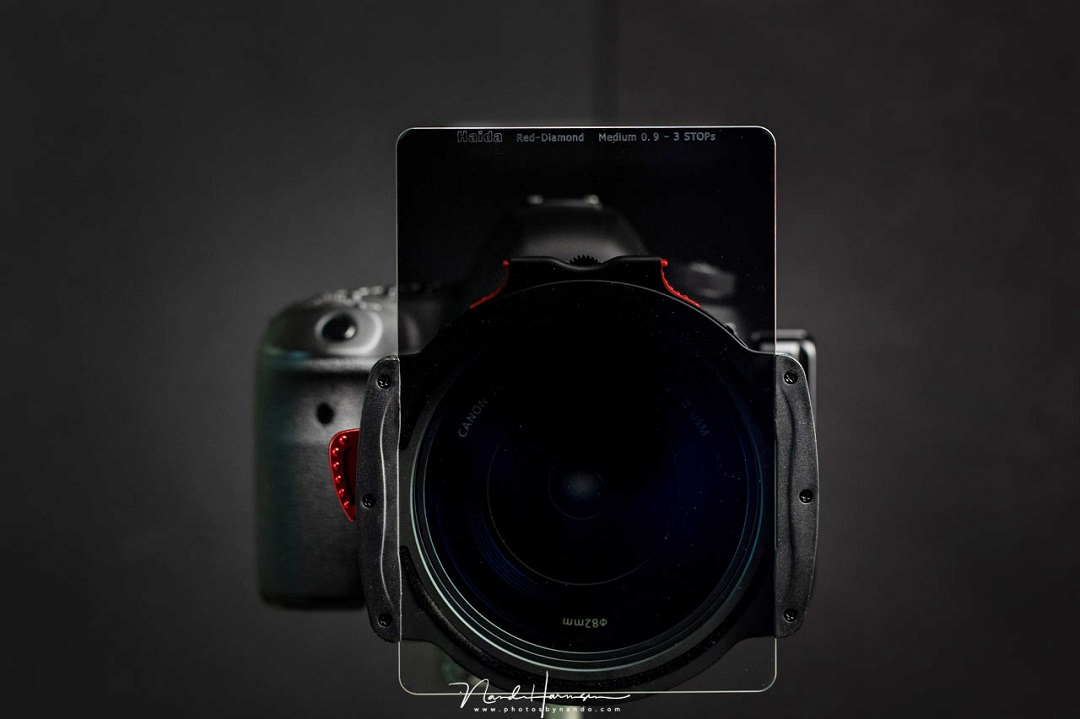 I enjoyed using the Haida M10 filter holder, and the Red Diamond filters. I think it is a very good product and I will keep on using it.
Which filter system do you use for your landscape photography? Do you like your filter system and how do you think it would compare with this new Haida M10 system and Red Diamond filters? I love to read your opinion in the comments below.