Haida Picture Appreciation | February
---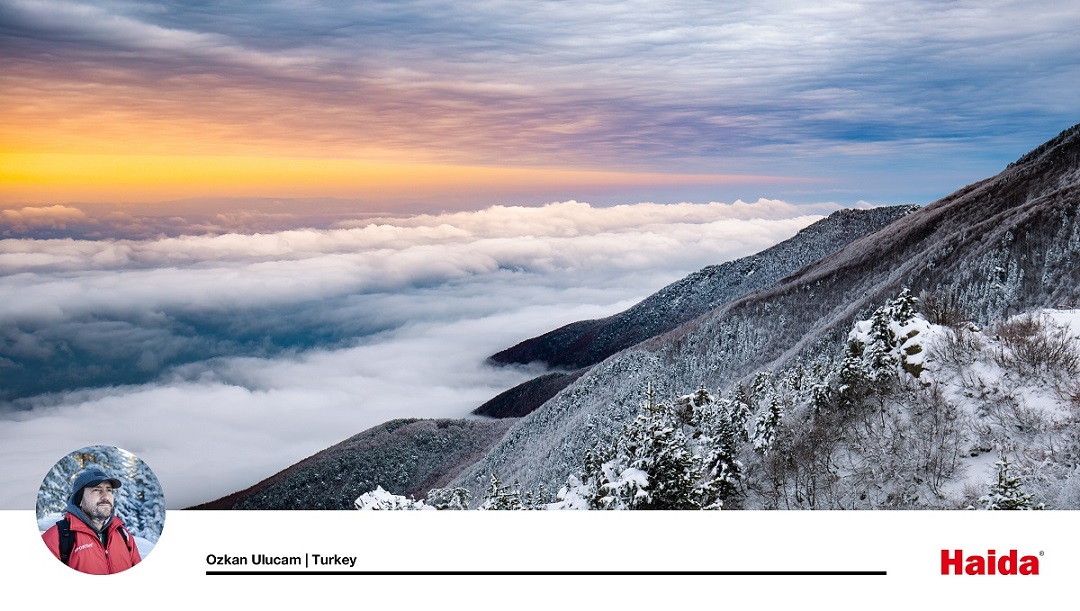 Uludag National Park, Bursa, Turkey
After a long and arduous journey with my friends, this scene that I saw at this point made me get rid of all my fatigue and I took countless photos in this landscape. This region hosts various animal species along with its natural beauties. The area where I photographed is over 2,000 meters.
Canon 6d | 16-35 f4 L
Haida filter M10 holder + M10 Drop-in CPL
Haida Filter Red-Diamond Medium ND 0.9
35mm | F/8 | 1/80 | ISO 50
---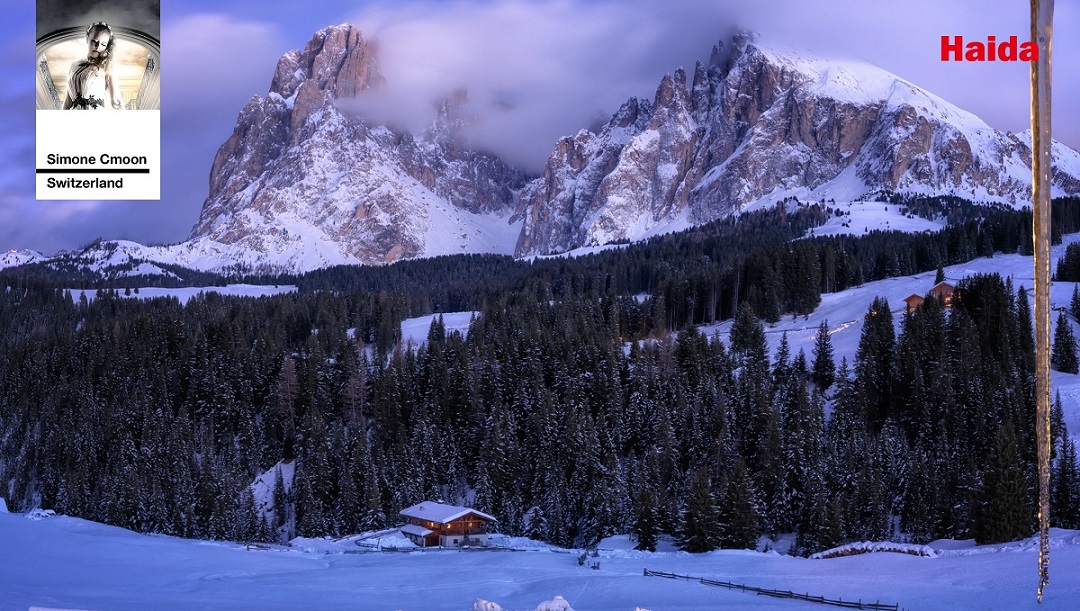 Cold Nights
I found a lot of snow this winter in Italy. After a colorful sunset, I went to my room and found a very big icicle outside my balcony. So I focus stacked with 3 images. The ND filter helped me to get softer light and more beautiful colors by making the exposure a bit longer while keeping the ISO low for higher quality. You can see the reflection of the light from the windows in the icicle.
Focus stacked, taken with Nikon Z7 and 14-30
Haida Red-Diamond ND 1.8
30mm | ISO 160 | 2.5s | f/9
---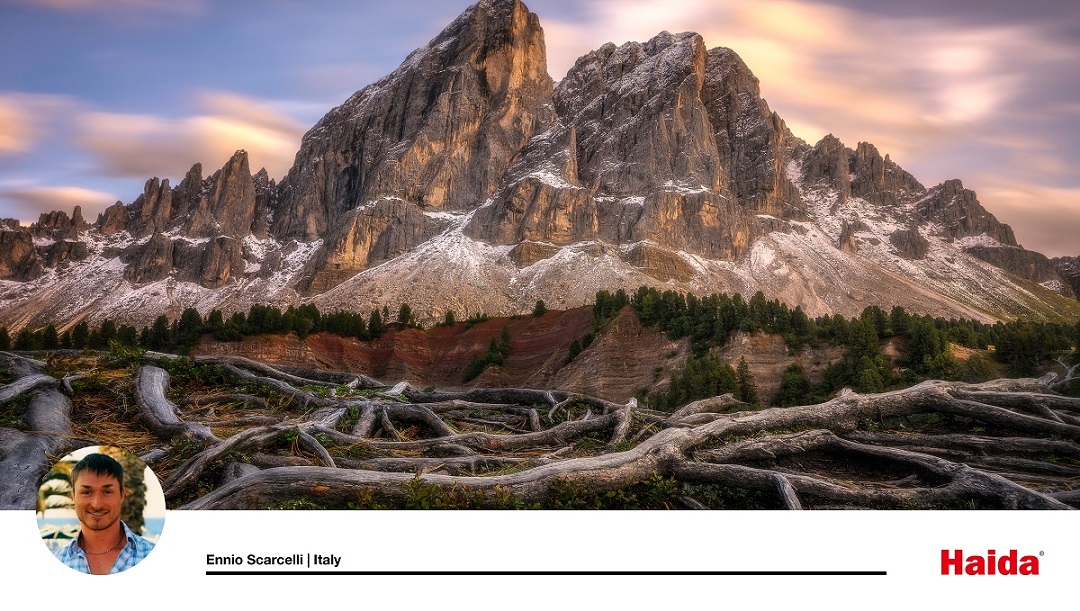 Roots of Dolomites
This picture was taken in the Dolomites UNESCO heritage, in Italy.
The mountain is called "Sass de Putia", is 2.875 m high. The summit is located inside the Puez-Odle natural park, near the Passo Delle Erbe.
This place offers various photo spots in every season of the year and getting here is very simple.
Nikon Z7 | Nikkor Z 14-30
Haida M10 System with ND64 + M10 Drop-in CPL
ISO 64 | F16 | 20"
---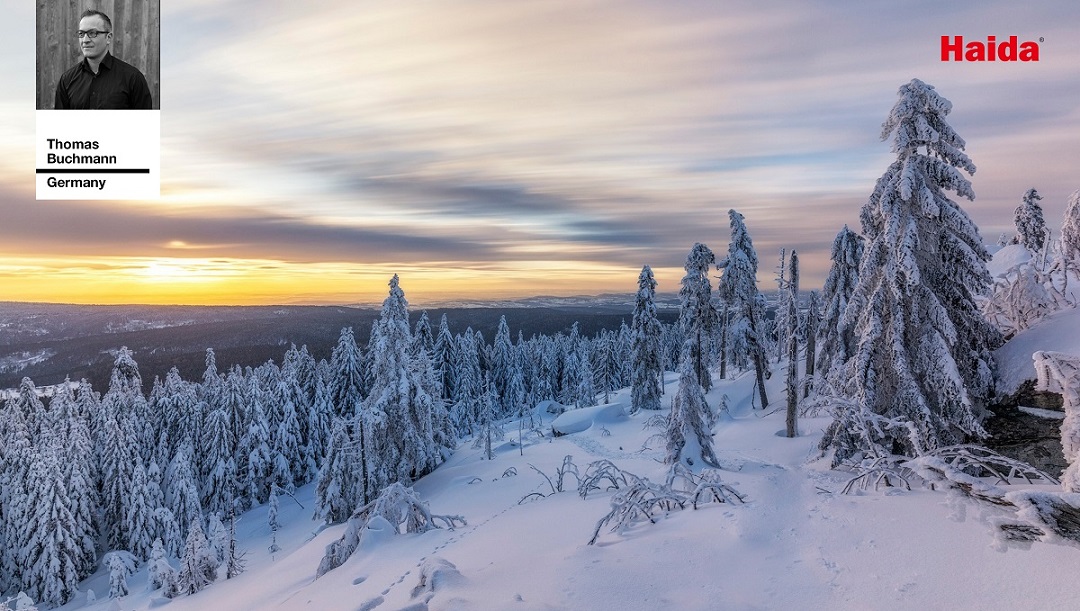 Snowy Fichtelmountains
We do not have much snow nowadays, but fortunately, there were some in January 2019. A beautiful snowshoe hike led me to the summit of one of the peaks in the Fichtelmountains located in northern Bavaria. The frozen spruces immediately caught my attention.
After enjoying nature for a while and looking for a decent composition, I used the Haida M10 filter holder with a Red Diamond 0.9 Medium GND filter on my wide-angle lens. However, I was not completely happy with the result, as the sun was still covered by clouds and the light looked a bit dull.
Therefore I decided to use the brand new Drop-In ND4.5 (15 stops) neutral density filter for a long exposure. I exposed 326s and during that time
the clouds moved a bit revealing the sun at the end of the exposure time.
Canon 5D Mark IV + EF 16-35 f/4 L IS USM
Haida M10 Filter Holder
Haida M10 Drop-in ND4.5
16mm | f/9 | ISO 100 | 326s.
---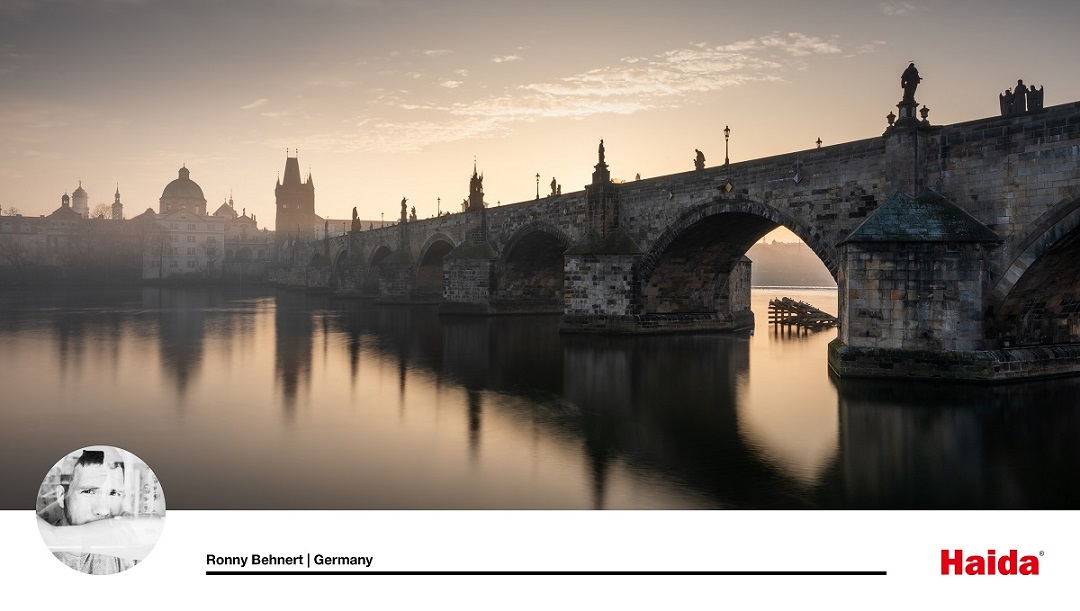 I have been so many times in Prague, but never got the perfect weather conditions, I had during this morning at the famous Charles Bridge. During my last photo workshop, we started taking photos covered in a thick, grey fog. After a while, the sun came up, so the fog started floating away. The light was better and better from every minute. The sun came up directly behind the bridge. To handle the hard contrast and the difficult light, I started using a Soft Graduated Neutral Density Filter (GND 0,9) beside the basic ND 3,0 Red Diamond for smoothing the water to become a cleaner reflection. The GND 0,9 soft was perfect to darken the sky around the upcoming sun so I was able to take this shot without too bright and too dark parts in the photo.
Sony α7r II + Sony FE 16-35mm f/2.8 GM
Haida Red-Diamond 10-Stop ND Filter
Haida Red-Diamond Soft GND0.9
ISO 50 | f/13 | 30s
---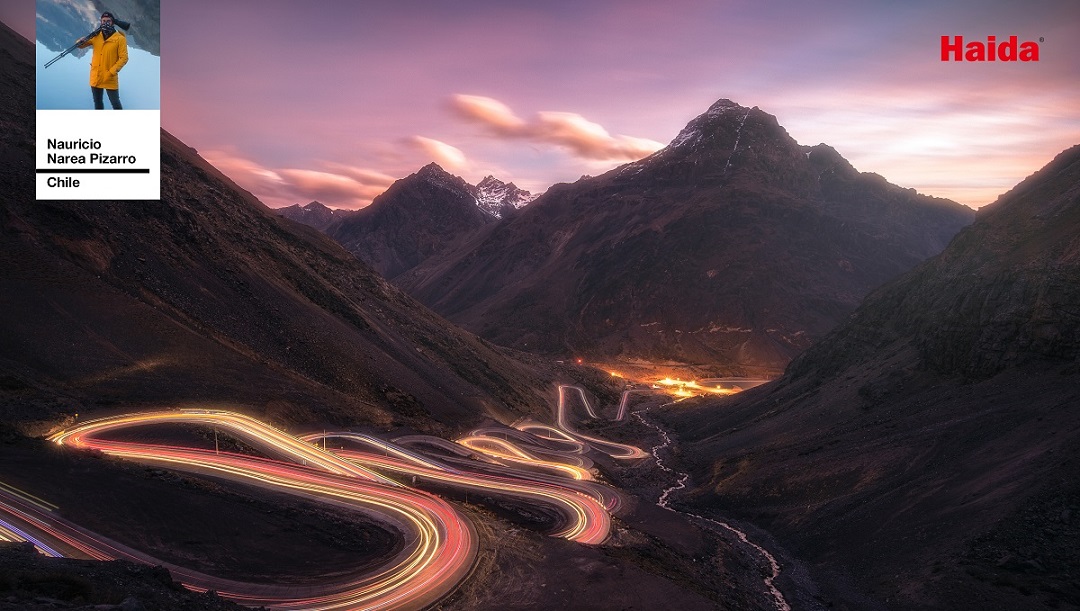 This photo is on the Caracoles slope, Los Andes Chile. I took two photos, one for the sky and one for the light strokes of the cars, then I joined them in photoshop.
Canon 5D Mark IV + Tamron 15-30mm f / 2.8 g2
Haida M15 Filter Holder for Tamron 15-30mm + ND1.8
EXIF sky photo: 15mm, f / 2.8, iso 100, 30 seconds.
EXIF photo light strokes of cars: 15mm, f / 11, iso 100, 487 seconds.