Haida M10 and Red Diamond Test Review - Part 1

Author: Jenny Cameron
Introduction

I'm excited to introduce the new Haida M10 adapter ring, M10 filter holder, M10 round "drop-in" circular polariser, M10 "drop-in" light barrier, M10 round "drop-in" neutral density 3.0 (10 stop) and Red Diamond medium 0.9 (3 stops).
This test review was based on a shoot around Assynt, a remote area of the Northern Scottish Highlands using my Canon 5d mark iv ( full frame camera). Tested at the widest focal length I use, 16mm with my Canon 16-35 mm USM L lens. Gitzo tripod and ball head.
As a landscape photographer I have learnt how invaluable a great filter system is to my arsenal of tools. It's something you can buy a bit at a time to build up your collection, but choosing the correct brand is the tricky part. Thankfully for you I've made the mistakes and now ready to reveal the latest from Haida filters, the only brand for me.
I started using Haida filters in January 2018 with their Pro 100 series. As much as I regard them highly, I can't stress enough how Haida's design team have really upped their game and left their competitors way behind with their latest generation M10 filter holder system for the 100 mm series filters, including a selection of round "drop-in" filters (CPL, NDs and Clear-night) also their Red Diamond series ND's (soft, medium), hard GND, reverse GND and horizon GND. These were all launched in October 2018 at Photokina and are now readily available. Haida have really listened to their customers and actually done something about it.
They kindly sent me their M10 filter holder and a selection of filters early in January 2018. So far, they have travelled almost two thousand miles with me on a road trip from the North Coast of Scotland to Southern England and a couple of local photo shoots. I wanted to really spend time in the field conducting this review and putting everything through its paces to give my most honest opinion. I can proudly say I now know them so well I could use them blindfolded. The whole set up – from screwing on the adapter ring to sliding in your first filter – can be done in less than 10 seconds!
All Haida filters are assembled in their own optical workshop located in the beautiful Port City of Ningbo, China. Haida's new generation are such a genius method and design.
Haida M10 filter holder kit for the 100mm series filters includes the filter holder, CPL, light-barrier, adapter ring and leather case.
Haida M10 adapter ring
Works solely with the Haida M10 filter holder which is part of Haida's new generation. Constructed entirely from aluminium for strength and light-weight, and also slim in design. From my experience this helps with any unnecessary vignettes when shooting at wide angles. You simply screw it easily onto the front of your Lens. This is the foundation for the M10 filter holder: it's a bit like building a house – without a solid foundation there's no point installing the windows.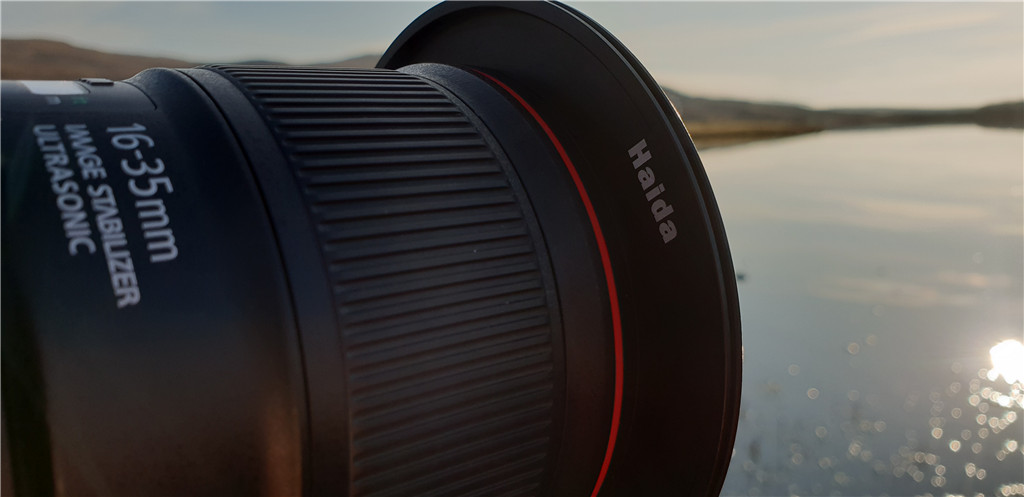 These can be purchased to fit most popular lenses in sizes 49, 52, 55, 58, 62, 67, 72, 77 and 82mm.
Haida M10 filter holder
This is Haida's successor to their 100 Pro filter holder. The new M10 filter holder is made from aviation grade aluminium and PC materials for super strength and is lighter in weight than its predecessor. Its genius design makes it exceptionally user-friendly, with super fast set up, and effortless to change and remove filters. Simply clip the M10 filter holder onto the M10 adapter ring by using the red push-and-release (spring clip) locking lever (see photo below).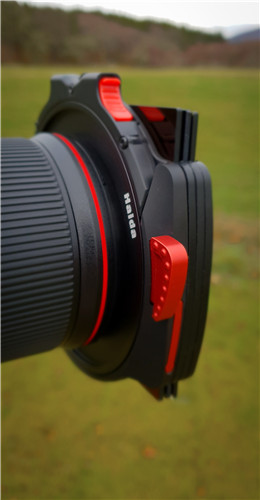 The innovative design gives a very secure and solid connection, and at the same time the ability to rotate 360 degrees – which I found especially useful when using the Red Diamond medium 0.9 ( 3 stop) graduated neutral density filter. The non-slip spongued coating on the bottom of the filter holder provides more of a grip when rotating which I think is a nice touch.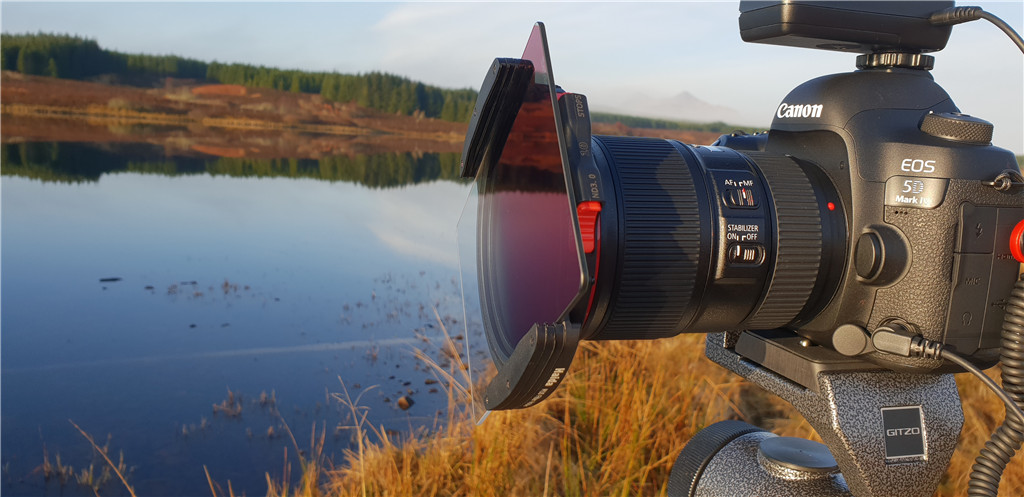 It's designed to take up to three filters ( 100 x 100mm or 100 x 150mm @ 2mm thickness, compatible with other brands at the same size ) on the front of the holder if you wish to stack, and one filter slot at the rear closest to your camera lens where the new round "drop in" M10 filters are used.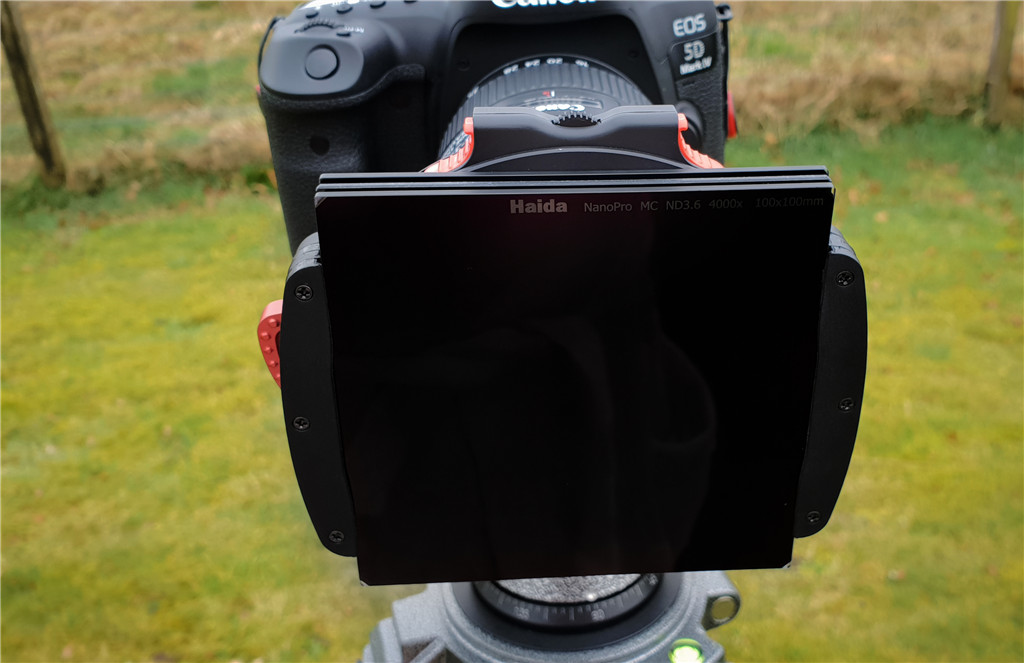 Boasting a choice of neutral density filters ( 3, 6, 10 and 15 stops), circular polariser (included in the kit), clear-night (light pollution filter), graduated neutral density filters ( 3 and 4 stops) and ND + CPL ( 3 and 6 stops). But only using one at a time which is the only downside if you like using several ND/s and a CPL as I often did with its predecessor. If you don't wish to use any of the round "drop- in" filters, you must use the M10 "drop in" light barrier (see photo below) which is a simple and easy to use sealing ring to prevent any light leakage (also provided in the kit).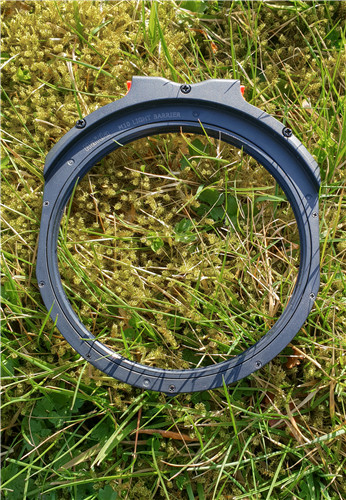 Housed in a smart black eco-leather zipped storage case, with a handy carabiner attached to the top which can be neatly clipped onto your tripod or belt for ease of access. Internally lined with a lovely grey velvety fabric with a net pocket for storage. Also included: screwdriver, extra pair of filter holder slots and gaskets to provide a third slot on the front of the Holder (which I've left on permanently).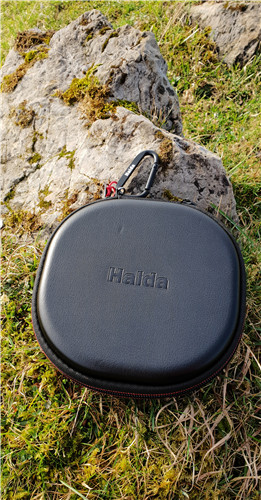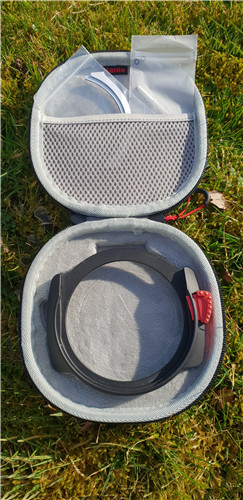 Video of me using the M10 adapter ring, M10 filter holder, M10 round "drop-in" circular polariser filter together with Red Diamond medium 0.9 filter.
To be Continued...