Review: Haida M10 Filter Holder Kit & Red-Diamond Filters
Author: Dylan Giannakopoulos
From: Australian Photography

From using polarisers to cut glare, to neutral density (ND) filters to manipulate shutter speed, filters are a staple piece of equipment in any photographer's camera bag. Dylan Giannakopoulos looks at a new arrival in the Australian filter market.
Filters fall into two major categories, screw on filters and square filters, and there are pros and cons to both systems. I prefer to use square filters as it allows me to use the same set across all my lenses by switching the adaptor ring, and I can also stack multiple filters, something screw-in filters don't allow.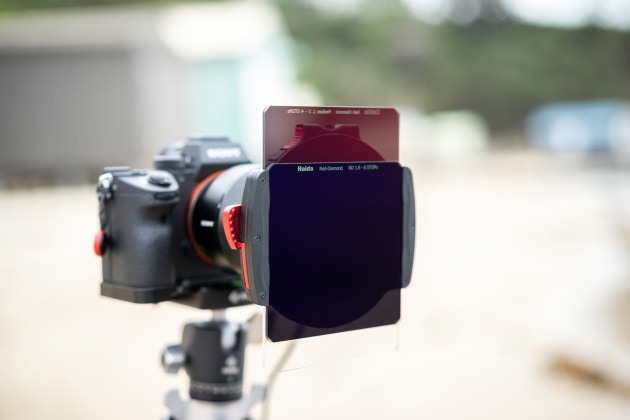 Products used: M10 Filter Holder, M10 Drop-In CPL, Red-Diamond 100mm 6-Stop ND Filter and Red-Diamond 100mm x 150mm 4-Stop Medium-Edge Graduated ND Filter.
In January Haida released their new M10 Filter Holder System which supersedes their existing 100-Pro Series Square Filter System.
For this review, Haida sent me their new M10 Filter Holder Kit ($195 USD/$272 AUD), M10 Drop-In 10-Stop ND Filter ($110 USD/$153 AUD), Red-Diamond 100mm 6-Stop ND Filter ($139 USD/ $193 AUD) and Red-Diamond 100mm x 150mm 4-Stop Medium-Edge Graduated ND Filter ($189 USD/$263 AUD).
The system
The M10 Filter Holder System consists of three sections; a filter holder, drop-in filter and an adapter ring. The filter holder, which is made from aviation grade aluminium, features plastic filter slots that provide a firm grip and there is a gasket built into the holder to reduce light leaks.
The first notable feature of the M10 system are the two slots which fit standard 100mm wide by 2mm thick square filters. This is great if you want to switch holder systems but still want to use your existing filters from other brands, or you can exclusively use the Haida round drop-in filters, or a combination of both.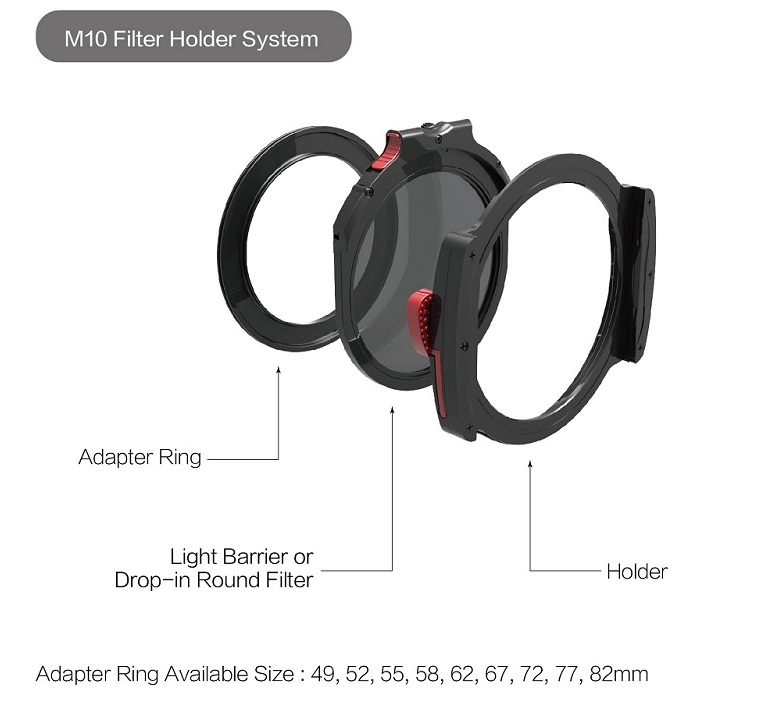 The M10 system connects to your lens with an adapter ring, then a light barrier or drop-in round filter, and then finally the filter holder itself.
Haida have also looked closely at the circular polariser (CPL) integration in the M10 system. From previous experience, removing a CPL from a square filter holder is often a time consuming and frustrating process. However, Haida's design team has addressed this by adopting round drop-in filter technology into the system.
Like on other filters, the kit includes a CPL with a built-in dial that independently rotates the filter to adjust the level of polarisation. This is a round drop-in filter, however there is also a light barrier included that needs to be used in instances when you're just using square filters without the M10 drop-in filter.
This light barrier is a simple filter 'frame' without glass, designed to stop light entering between a square filter and the lens, and helps eliminate light leakage.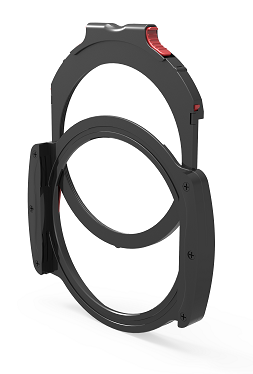 The light barrier filter frame designed to prevent light leakage when using the holder without round filters.
Personally I almost always use a CPL when shooting landscapes, so I couldn't see myself investing in a set of drop-in ND filters when I'm unable to use my polariser at the same time. As a result this feature may be more useful to some than others.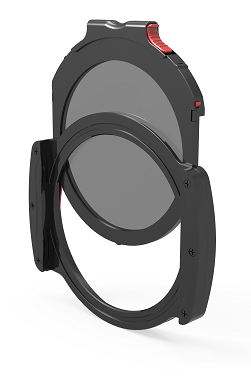 Haida's cleverly designed round filter drop-in system features red clips to ensure a snug fit and easy removal.
The Haida M10 filter holder itself attaches to a low-profile aluminium adapter ring which is available in a variety of sizes to suit lenses with filter threads ranging from 49mm to 82mm. After the adapter ring has been screwed onto the lens, the filter holder is easily attached and held secure by a locking lever. The filter holder can be rotated 360° whilst remaining attached to the Adapter Ring, a feature which users of graduated ND filters will appreciate.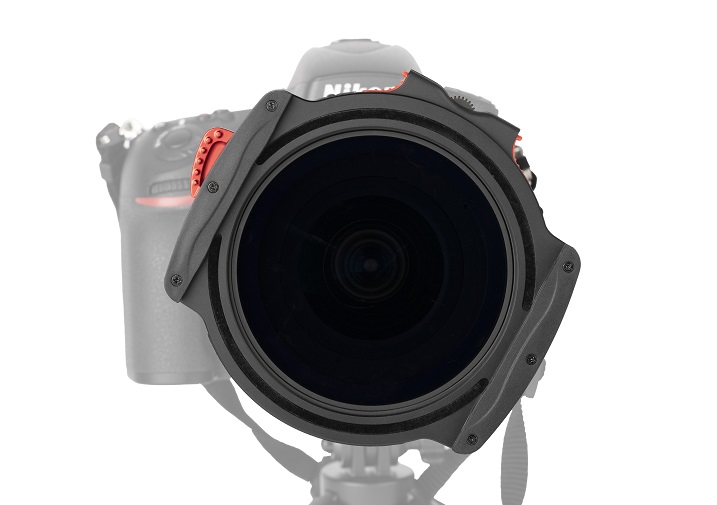 The M10 system can be easily rotated, useful for using GND filters.
The M10 filter holder system has been designed with a focus on handling and ease of use. The locking lever is robust, has a great tactile feel and can even be used with gloves on. Both the lever and spring clip are coloured a vibrant red for easy identification in low light and can be setup and packed away very quickly.
The CPL in place with a round drop-in ND filter.
The spring clip mechanism allows the range of M10 drop-in filters to be easily interchanged by simply pinching the red release buttons. The only downside is these are made from plastic and not aluminium, which is a shame as it doesn't have the same build quality as the rest of the M10 Filter Holder System.
Along with the holder and CPL, the kit also comes with a protective leather case, screwdriver and an additional pair of filter holder slots. Whilst the case is compact and elegantly designed, it's a shame that there is no compartment for square filters inside.
The filters
Haida offer a variety of round drop-in options such as NDs, Graduated NDs, 2 in 1 CPL + NDs and a Clear-Night Filter, all of which can be used in place of the CPL.
The 4-stop medium-edge graduated ND filter and the 6-Stop ND filter are both a part of Haida's Red-Diamond series of filters released last year. These filters are made from K9 optical glass and feature a shock and scratch resistant design. Each filter is coated in an ultra-thin nano multi coating designed to preserve image sharpness whilst delivering close to zero colour cast. Thankfully the coated surface which helps protect the filter from the elements also makes it easy to clean. The corners of the filters have also been rounded for easier installation into the M10's filter slots.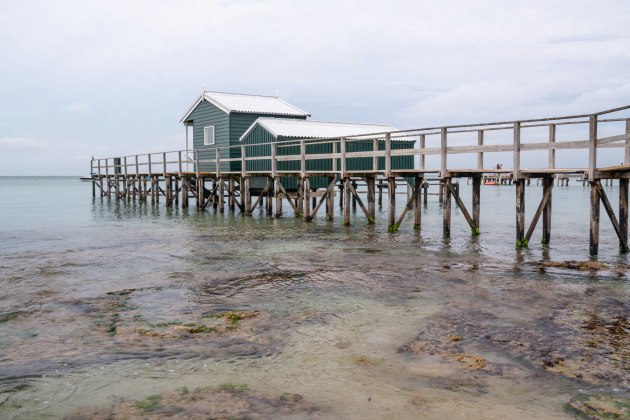 Shelly Beach. 1/50s @ f11, ISO 100. No filters used.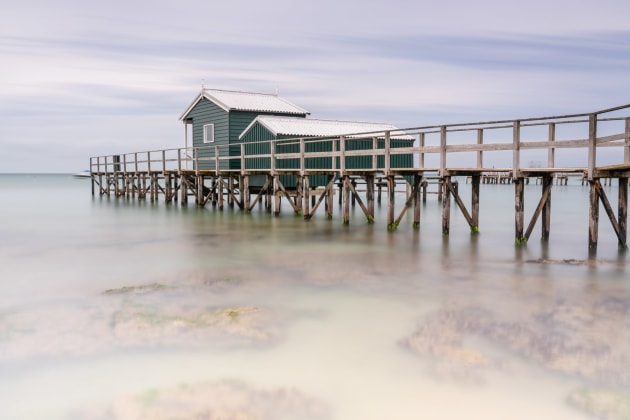 Shelly Beach. 129s @ f13, ISO 100. Products used: M10 Filter Holder, M10 Drop-In CPL, Red-Diamond 100mm 6-Stop ND Filter and Red-Diamond 100mm x 150mm 4-Stop Medium-Edge Graduated ND Filter.
Just like the Red-Diamond filters, the M10 drop-in CPL and 10-Stop ND filter are both made from the same grade of optical glass and feature the same coating. The downside to these M10 filters is they are not compatible with any other filter holder system and you can only use one at a time.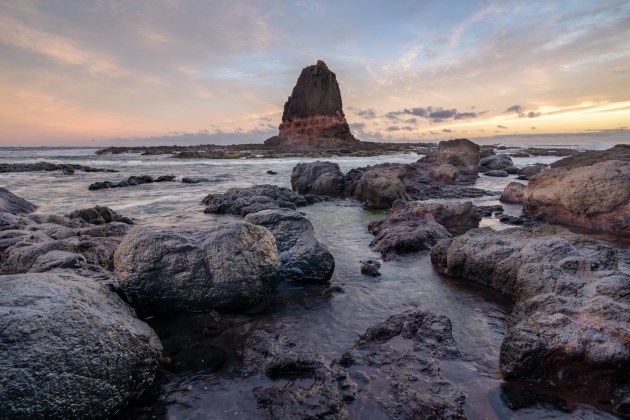 Location: Cape Schanck. 1/8s @ f11, ISO 100. No filters used.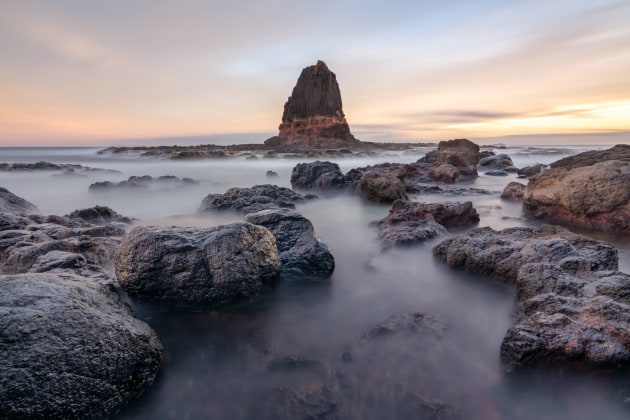 Location: Cape Schanck. 121s @ f11, ISO 100. Products used: M10 Filter Holder and M10 Drop-In 10-Stop ND Filter.
In my opinion, a good quality filter is one that preserves the image quality of the lens it's attached to. Whilst reviewing these I paid close attention to see if there was any colour cast and/ or reduction in image sharpness. I found they tended to add a subtle amount of warmth and magenta tint to my images, with the exception of the graduated ND which casts a very faint green tint.
I was particularly impressed by how little colour cast was present in the 10-Stop and graduated ND. All of the filters performed exceptionally well at retaining image sharpness, with no perceivable loss in detail. Even after stacking multiple filters to try and exacerbate any potential issues, I found these filters performed really well and I would consider the amount of colour cast to be negligible. ❂
Handling ★ ★ ★ ★ ★
The M10 Filter Holder System handles exceptionally well. It's quick to setup and pack away and the drop-in system makes changing filters effortless.
Features ★ ★ ★ ★ ★
Although filter holders can be such a simple piece of equipment, Haida have packed this system with many useful features. The drop-in filter system, external dial that independently rotates the polariser and the secure 360° rotation of the holder are features which set this system apart from the competition.
Build quality ★ ★ ★ ★
I cannot fault the construction of the holder and adapter rings. Unfortunately, the plastic construction of the spring clip mechanism in the drop-in filters wasn't up to the same standard.
Image quality ★ ★ ★ ★ ★
I was very impressed by the image quality. The ultra-thin nano multi coating did an excellent job of minimising colour casting and preserving image sharpness.
Value for money ★ ★ ★ ★
Whilst the M10 filter holder kit and Red-Diamond filters are not the cheapest, considering the features and quality, I think they're great value for money.
Final Word
After using the Haida M10 holder, it's clear that a lot of effort has gone into designing a system which is not only durable but quick and easy to use. When paired with the impressive Red-Diamond filters, you're getting a high quality filter system which is competitively priced and well suited to photographers of all levels.
You can find out more about Haida filters at Haidaphoto.com, or 1300 123 325.
Read more at http://www.australianphotography.com/gear/review-haida-m10-filter-holder-kit-and-red-diamond-filters#j68vbORdxWuQz3fx.99